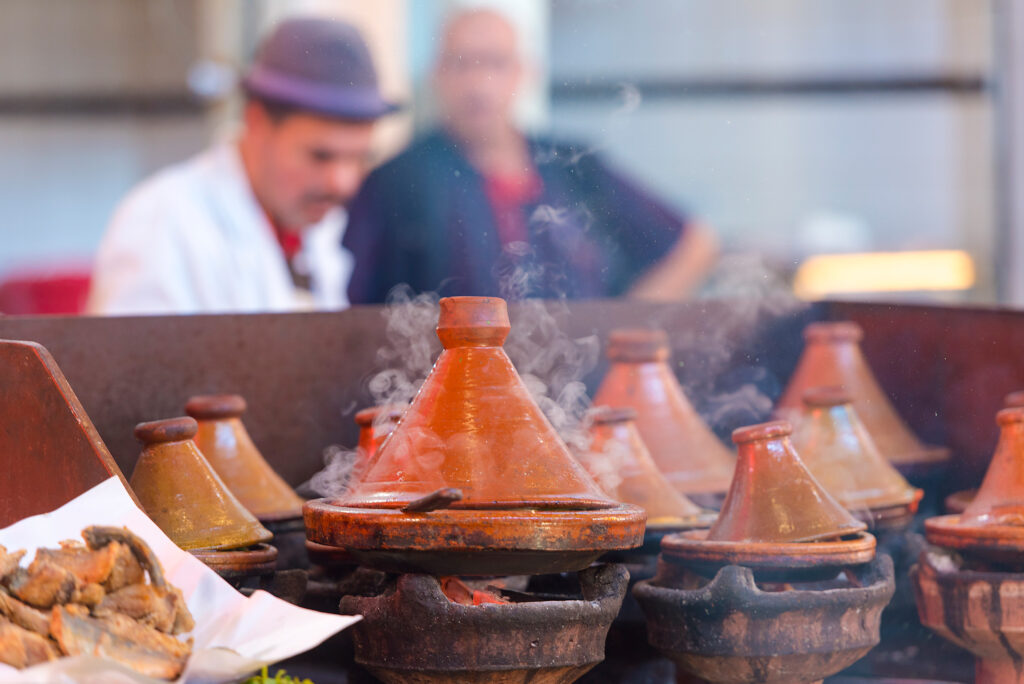 Looking to embark on a culinary adventure? Look no further than the vibrant and diverse cuisine of Morocco. With its rich history and flavorful ingredients, Traditional Moroccan cuisine offers a tantalizing experience that will leave foodies craving for more. From aromatic tagines to refreshing mint tea, this country in North Africa is a true paradise for gastronomy enthusiasts.
One of the defining features of Moroccan cuisine is its unique blend of flavors and spices. Influenced by its geographic location and historical interactions with various cultures, Moroccan dishes combine elements from Arab, Berber, and French cuisines. This fusion creates a harmonious symphony of taste and texture that is truly remarkable.
What Is A Tagine?
One cannot delve into the world of Moroccan cuisine without mentioning the iconic tagine. Named after the clay pot in which it is cooked, a tagine is a hearty slow-cooked stew that is bursting with flavors. The Moroccan tagine can be made with a variety of ingredients, ranging from succulent meats like lamb or chicken to vegetarian options such as chickpeas and vegetables. What sets the tagine apart is the perfect balance of spices like cumin, turmeric, cinnamon, and saffron, which infuse the dish with an aromatic charm.
While tagines steal the spotlight, Moroccan cuisine has much more to offer. Numerous dishes are often served with couscous, a versatile grain that serves as a food base in Moroccan households. Whether it is paired with tender lamb or adorned with a medley of vegetables, couscous acts as a canvas for the bold flavors of Moroccan cuisine.
Moroccan Pastries
In addition to savory dishes, Moroccan sweets are a must-try for any food enthusiast with a sweet tooth. From delicate almond pastries known as pastilla to honey-soaked pastries like chebakia, the Moroccan dessert scene is a feast for the senses. Not to be missed is the quintessential Moroccan treat, the traditional mint tea. Served in ornate glasses, this refreshing beverage is a blend of green tea, fresh mint leaves, and a generous amount of sugar. The ritual of pouring the tea from a height adds an element of theatrics to the experience.
To truly appreciate the depth and variety of Moroccan cuisine, it is essential to explore the local markets, known as souks. These bustling marketplaces offer a vibrant display of spices, fruits, vegetables, and other ingredients that are essential to Moroccan cooking. The lively atmosphere and the intoxicating aroma of fresh herbs and spices create an immersive experience that is sure to captivate any culinary enthusiast.
Morocco Real Food Adventure Tour
For those eager to delve even deeper into the secrets of Moroccan cuisine, check out our 12-day Morocco Real Food Adventure tour. This trip provides an authentic experience of Moroccan food to try, including a home-cooked dinner, hands-on cooking classes, and a special opportunity to meet local goat's cheese producers in Chefchaouen. From Casablanca, to Fes, the M'Goun Valley, Marrakech and more, this is one journey you won't want to miss.
Whether you're a seasoned foodie or simply someone looking to broaden their culinary horizons, exploring authentic Moroccan cuisine is an adventure worth embarking on. From the fragrant flavors of tagines to the enchanting experience of sipping mint tea, this North African country offers a gastronomic journey that promises to leave a lasting impression. So pack your bags and prepare your taste buds for a culinary adventure in the land of vibrant spices and exquisite flavors.