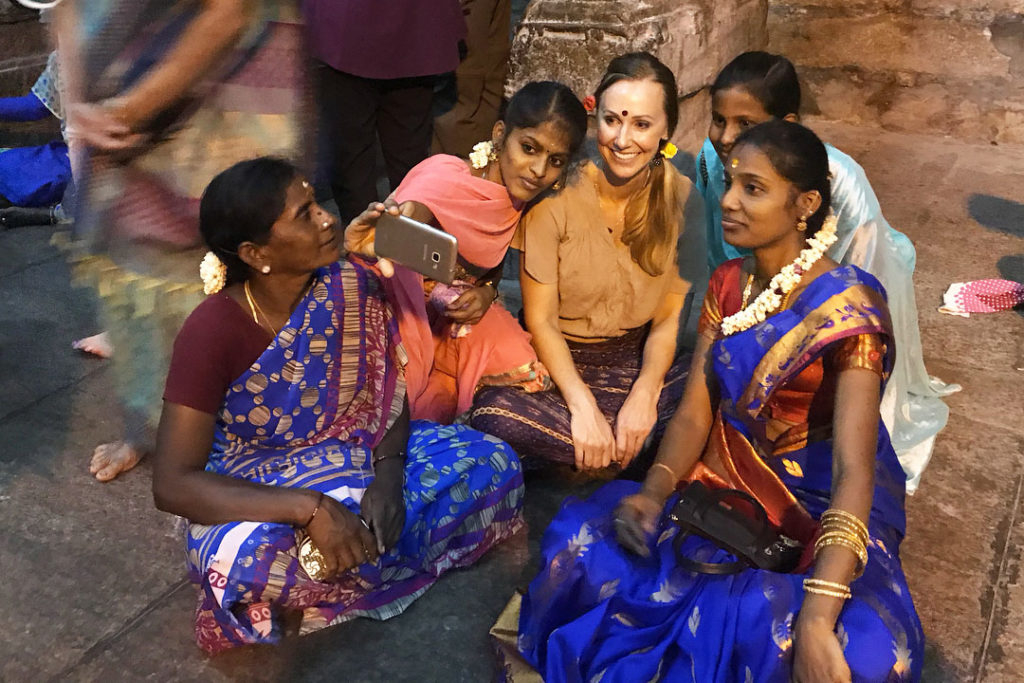 Join noted health and wellness expert Lori Faren on an intimate 15-day journey through one of the world's most vibrant countries—India! Under Lori's expert guidance, connect with a group of like-minded women, enjoying authentic cultural and wellness experiences every step of the way.
Our immersive Indian adventure is filled to the brim with specially curated activities. Relax during yoga classes alongside ancient monuments, take a street food tour through the culinary capital, view lavish cultural shows, savour traditional Indian cuisine during an intimate cooking class with a local family, admire the legendary Taj Mahal by moonlight and enjoy genuine interactions with the people of India. Perhaps our ultimate cultural experience comes in Pushkar, where we experience the famous camel fair, bringing together artisans, pilgrims and more than 30,000 camels from across north-west India.
Throughout our exploration of India's cultural highlights, Lori will integrate her deep knowledge of health and wellness. Our tour concludes with soulful experiences of two of India's spiritual centres—Varanasi and Rishikesh. Here we take in the thousands of pilgrims that visit these holy sites, float on the ancient Ganges and experience our own slice of nirvana.
Day 1: November 2, 2019: Arrive Delhi
Namaste! We are warmly welcomed the traditional Indian way with hands clasped together and transferred to our hotel.Overnight: Vivanta by Taj Dwarka, New Delhi (5-Star Deluxe Room)(3 nights)
---
Day 2: November 3, 2019: Delhi
After breakfast at our hotel, we visit the Red Fort Complex. Named for its massive enclosing walls of red sandstone and built by Islam Shah Suri in 1546. The Red Fort is considered to represent the zenith of Mughal creativity which, under the Shah Jahan, was brought to a new level of refinement. Next, take a tour of New Delhi and visit the famous India Gate, followed by a photo stop at the Houses of Parliament and Humayun's Tomb, the first garden-tomb on the Indian subcontinent.

Later, we experience the art of Kashmiri Carpet weaving before continuing to Qutb Minar and its Monuments*. Built in the early 13th century, the red sandstone tower of Qutb Minar is 72.5 meters high. In the evening, we enjoy a welcome dinner at a famous Indian Restaurant. (B, D)
---
Day 3: November 4, 2019: Delhi
Early morning, we attend a peaceful and unique yoga class at the historical Lodhi Gardens. After our session with a local yogi teacher, we stroll through the Garden, which is dotted with tombs, mosques and bridges. We then return to our hotel for breakfast.
After breakfast, it is time to embark on a culinary expedition! The vast diversity of Indian cuisine is impossible to capture in any one individual kitchen. Today, we take a rickshaw ride to the streets of Old Delhi, where entire streets are dedicated to one delicacy! Sample delights such as the "Parathewali Gali", a whole street lined with shops specializing only in Parathas, a special flat bread stuffed with all kinds of vegetables, cheeses, spices and everything else the chefs fancy! Watch them create masterpieces using exotic flours, spices, vegetables and other ingredients. These simple melt-in-your-mouth delicacies will leave us craving more long after we return home. We continue our quest, making our way to Delhi's oldest and most famous bazaar, Chandni Chowk. Spices are the specialty of Khari Baoli, so be prepared to be assaulted by exotic smells and fragrances.
In the afternoon, we visit the house of Mrs. Jyoti Agarwal to enjoy a cooking class followed by a sumptuous dinner with Jyoti and her family at their home. Learn to prepare a delicious home-cooked Indian meal supervised by Jyoti and share it with our hosts and friends, real Indian style! This is an intimate glimpse of contemporary India. (B, D)
---
Day 4: November 5, 2019: Delhi/Ajmer (Train) & Ajmer/Pushkar (Drive)
Early morning, we are transferred to the railway station to board our Shatabdi Express train to Ajmer. Train travel in India is a not-to-be-missed experience. This train is fully air-conditioned, and we get to enjoy complimentary meals. A great opportunity here to meet the local folks and enjoying viewing the rural life in India!
On arrival, we are driven to Pushkar, a bewitching little town on the edge of the desert. Temples, bathing ghats, onion domes and chalk-colored buildings cluster around its holy lake, said to have appeared when Brahma dropped a lotus flower. It's an important pilgrimage centre and we shall see plenty of Sadhus. Pushkar has some temples, though few are as ancient as you might expect at such an important pilgrimage site, since many were destroyed by Aurangzeb and subsequently rebuilt. In the afternoon, we visit the famous temple of Lord Brahma, said to be one of the few temples in the world dedicated to this deity. 
Overnight: Hotel Jagat Palace, Pushkar (2 nights) (B, D)
---
Day 5: November 6, 2019: Pushkar
Morning yoga session at our hotel. Balance of the day is spent enjoying and witnessing the many activities that take place during the Pushkar Camel Fair. One of the nation's biggest livestock fairs, the Camel Fair draws many from all over north-west India to participate in the buying, selling and negotiating of prized animals. With dancers in the street and skilled artisans selling their goods, the Camel Fair is a jamboree of colour and excitement. Take the opportunity to meet and interact with local Rajputs on this very special occasion. (B, L, D)
---
Day 6: November 7, 2019: Pushkar/Jaipur (Drive)
Morning yoga session at our hotel. After breakfast, we check out from our hotel and drive to Sanganer, which is famous for its block printing, textiles and garments. Most of the block printing units use natural colors. We visit one of the centers where a workshop is conducted.
From here we drive to Jaipur and check in to our hotel. Late afternoon we enjoy a gem-cutting & polishing demonstration as Jaipur is one of the world's most noted gem producers. Next, we visit a local bazaar and explore some of the famous places known for serving the local culinary delights of the city of Jaipur. Discover the famous sweet shop of Rawat, where we try some mouth-watering local snacks very typical to the region of Rajasthan, accompanied by the famous yogurt Lassi Drink.
Overnight: Trident Hotel, Jaipur (5-Star Deluxe Garden View Room) (2 nights) (B, D)
---
Day 7: November 8, 2019: Jaipur
This morning we are treated like the royalty of yesteryear with a visit to Amber Fort. This majestic palace fortress was never attacked or invaded, meaning everything is intact. We return to Jaipur to experience the art of block printing. Then visit the majestic City Palace, which houses a rare collection of Indian art and the beautiful Hawa Mahal, the Palace of Winds, where the ladies of the royal harem used to watch the city from behind the intricately carved facade. We also visit the Jantar Mantar*, an astronomical observation site built in the early 18th century that includes a set of some 20 main fixed instruments designed for the observation of astronomical positions with the naked eye.
In the evening, we enjoy our dinner at Diggi Palace with a Rajasthani Cultural Dance performance. Before heading out for an extravagant evening, we are dressed up in Indian sarees. (B, D)
---
Day 8: November 9, 2019: Jaipur/Varanasi (Flight)
Today, we are transferred to the airport for our flight to Varanasi. Varanasi is a spiritual centre for Hindus, Buddhists and Muslims alike. This is also the pilgrim centre for the Hindus who come daily to dip themselves in the holy water of the Ganges. On arrival, we are transferred to our hotel.
In the evening, we enjoy a special Satvik (Vegetarian) Thali meal made up of a selection of various dishes. Thali simply means a round platter used to serve food. The idea behind a Thali is to offer all the 6 different flavors of sweet, salt, bitter, sour, astringent and spicy on one single plate. According to Indian food serving customs, a proper meal should be a perfect balance of all these 6 flavors.
Overnight: The Gateway Hotel Ganges, Varanasi (5-Star Standard Room) (2 nights) (B, D)
---
Day 9: November 10, 2019: Varanasi
Early morning, we take a sunrise cruise on the River Ganges for a most serene experience. One of the cardinal principles of Hinduism is the belief in the holiness of the Ganges. Every morning scores of pilgrims and priests fill the riverbanks, bathing in the holy waters and performing various other rituals. This unique experience literally transports us to another world. After our boat ride, we attend a yoga and meditation session on the banks of the sacred Ganges. We then return to our hotel for breakfast.
After breakfast, explore Sarnath, the site of Lord Buddha's first sermon after attaining enlightenment. The city is also famous for its silk sarees and we visit some of the houses where the beautiful silk sarees are woven. In the afternoon, we experience old Varanasi, visiting the Bharat Mata Temple, which houses a huge marble relief map of India, the Durga Temple and the Tulsi Manas Mandir.

In the evening, we venture to the banks of the Ganges by rickshaw to witness the devotional ceremony of Aarti after sunset, performed by devout Hindus. (B, D)
---
Day 10: November 11, 2019: Varanasi/Delhi (Flight) /Agra (Drive)
A short flights gets us to Delhi. From here we drive to Agra, home to the most well-known wonder of the world—the Taj Mahal. Evening, enjoy the spectacular Mohabbat The Taj Show at Kalakriti, a unique musical dance show performed by renowned stage actors from Mumbai.
Overnight: The Gateway Hotel, Agra (5-Star Standard Room) (2 nights) (B, D)
---
Day 11: November 12, 2019: Agra
We begin our day before sunrise with a visit to one of the most beautiful monuments in the world, the Taj Mahal. An immense mausoleum of white marble built between 1631 and 1648 by the Mughal emperor Shah Jahan in memory of his favourite wife, the Taj Mahal is the crown jewel of Muslim art in India and across the world. Set in a vast Mogul garden located on the right bank of the Yamuna River, this funerary monument combines elements and styles of Persian, Central Asian and Islamic architecture. After our sunrise experience at this artistic masterpiece, we return to our hotel for breakfast. Later we visit Agra Fort. This powerful fortress of red sandstone encompasses the imperial city of the Mughal rulers. Following our exploration, we visit to some of the local factories famous for inlay work on marbles and witness the complex art of inlaying precious and semiprecious stones on the world-famous marbles for the mines of Makrana.
On nights with a full moon the Taj Mahal's pure white marble shimmers silver in the moonlight and is open to visitors. Our tour has been timed for us to be in Agra for the full moon. This evening, visit the Taj Mahal and be mesmerized by its unprecedented beauty in the moonlight. (B, D)
---
Day 12: November 13, 2019: Agra/Delhi (Drive) /Dehradun (Flight) /Rishikesh (Drive)
Morning yoga session at Taj Khema mount overlooking the Taj Mahal. After returning to our hotel for breakfast, we drive to Delhi airport to board our flight to Dehradun. On arrival in Dehradun, we drive to Rishikesh — a very important Hindu pilgrimage site. The flowing river, regarded as the Goddess Ganga, adds to the beauty and the purity of this mountainous region. Rishikesh is famous for its ashrams and temples, and is the perfect place to do yoga.
Overnight: Divine Resort, Rishikesh (3 nights) (B, D)
---
Day 13: November 14, 2019: Rishikesh
Morning yoga session at our hotel. After breakfast we cross the Ganges to visit the site of what used to be Maharishi Mahesh Yogi's ashram famous as the Beatles ashram. It was here in 1968 that the Beatles and many other celebrities took part in a Transcendental Meditation course with the Maharishi Mahesh Yogi's. Next, visit Laxman Jhula, Ram Jhula, Geeta Bhawan and other temples and ashrams. In the evening, we attend the Aarti Ceremony at the Ghats of Ganges. (B, D)
---
Day 14: November 15, 2019: Rishikesh
Morning yoga session at our hotel. The rest of our day is free to enjoy the highlights of Rishikesh. Meditate on the stunning Ganges, explore the beautiful scenery or just take some time to relax and unwind. (B, D)
Day 15: November 16, 2019: Rishikesh/Dehradun (Drive) /Delhi (Flight)
After an incredible tour of India, we are transferred to the Dehradun airport for our flight to Delhi. Here we are transferred to hotel Vivanta By Taj Dwarka New Delhi for day rooms until 8:30 PM. After our farewell dinner, we are transferred to the airport for our flight home, bidding farewell to India.
Day room: Vivanta By Taj Dwarka, New Delhi (5-Star Superior Charm Room) (B, D)
---
Departures Dates & Prices
Departure
Per person
on twin sharing
Single room
supplement
November 2. 2019
$3940 USD
$895 USD
Inclusions
Domestic airfares
Train fare in executive class from Delhi to Ajmer
Accommodation as mentioned or similar, including hotel taxes
29 Meals as mentioned (B=Breakfast, L=Lunch, D=Dinner)
All sightseeing and transfers by private air-conditioned transportation
Services of English-speaking escort throughout the tour for sightseeing as per the itinerary
Entrances fees to museums & sites included in the itinerary
Cooking class at the house of Mrs. Jyoti Agarwal in Delhi
Yoga classes as per itinerary
Textile Workshop in Sanganer
Rickshaw ride in Delhi
Not Included
International airfare
Insurance/visas
Tips/gratuities
---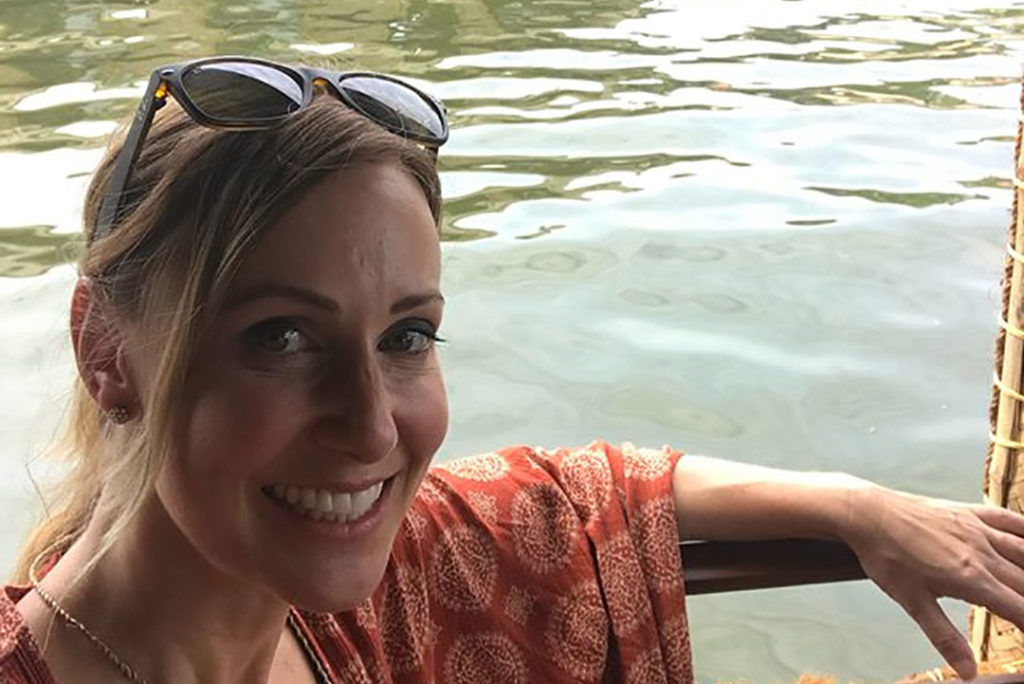 Lori Faren is an expert in fitness, nutrition and personal growth with a passion for guiding others in living a healthy, balanced lifestyle. She is a certified World Beauty Fitness and Fashion Pro, and a resident health expert on Portland's KATU Channel 2.
---