Join me, author and licensed facilitator, Pollyanna Blanco, on a unique 4-day/3-night Women's Chakradance™ retreat in beautiful, sunny Cozumel, Mexico. Even better, extend your stay to 7 nights and explore Cozumel's creative beauty and inspiration. Allowing yourself more time to relax and recharge. Take a trip that's just for you and feel the community of other like-hearted soul sisters.
Experience the creative healing power of Chakradance™ amplified on this beautiful jewel of an island in the Mexican-Caribbean dedicated to the Mayan fertility goddess Ix Chel. Cozumel is steeped in rich history and ancient wonders, beautiful flora/fauna, and a warm, friendly, vibrant culture.
Chakradance™ is a unique dance movement therapy. A moving meditation with eyes closed that guides you to greater self-acceptance, attuning you to your inner rhythm and creative flow. It is perfect for you if you find seated meditation difficult, or yoga positions uncomfortable, or talk therapy too intense. Just show up and dance and take it at your own pace!
---
"What an amazing journey through the Chakradance™ program. The environment Pollyanna created was a warm, supportive & safe one. I don't think I've ever danced so freely! It touched my core. I'll never be the same!" ~ Sue Chhina
---
About the Retreat
The retreat will begin in the late afternoon/early evening on the 7th of July. We will gather together for our welcome dinner on the ocean-view terrace.

Following the dinner, we will open the retreat with an Intro to Chakradance workshop to activate your 7 chakras and align you with your inner goddess. We will be using brief seated meditation, guided imagery, sound healing music composed to resonate with your body's energy centres, and mandala art.

After breakfast the next morning we will begin our inner freedom journey, diving more deeply into one chakra at a time, starting with a one-hour root chakra workshop, and after a brief break we will explore the sacral chakra. Then after a relaxing two-hour lunch we will reconvene to dance the solar plexus and heart chakras. In the evening take time to relax, journal, or go exploring.

The very next day we will move onto the throat and third eye chakras in the morning, and after lunch the crown chakra followed by group Samhara™ Reiki to support you to gently integrate your new awareness and embody it.

We will close our Chakradance™ retreat at dusk until the stars begin to twinkle. First, we will give back to the local community with our offering of backpacks to the Cozumel Chrysalis Group, a non-profit group that supports over 300 school children on the island. Then we will share in a water blessing ceremony with Mayan Ceremonial Leader Adrian Salas Xopan to give thanks to Mother Earth and goddess Ix Chel for supporting our journey. And then we will celebrate our inner transformation by releasing our heart-felt intentions that we sent into our water vessel during our workshop time, into the ocean, to ripple out into the world.
The following morning after breakfast those who are checking out and not staying on longer will take a taxi to the ferry docks or Cozumel airport.
---
Chakradance™
Chakradance™ is a gently healing movement therapy. It activates the major chakra centres in your body to help you find a deeper connection to your true self, promoting greater happiness and harmony within. No prior dance experience is required. There are no steps you need to learn or follow. Instead you are listening to how your body wants to move itself, with your eyes closed or gaze lowered, to sound healing music and guided imagery. It is a deeply transformative experience. Come together with your soul sisters and shine your light bright!
Founded by Australian born Natalie Southgate who is a Jungian Psychotherapist and Hay House author of "Chakradance –Move Your Chakras, Change Your Life", she has offered workshops at Deepak Chopra's Center in California, and at Doreen Virtue's Angel Intuitive courses, and has trained hundreds of facilitators worldwide.
---
Ceremonial Leader
Adrian is an active member of the Mayan Nation, initiated by Tiahuica (People of Light) Grandparents into spiritual ceremonies. He knows herbology, holistic therapeutic energy and ceremonial sweat lodge practices, and sacred maize cultivation. He uses chanting and painting to "deify the heart" to support the common good of healing and peace. A Spiritual Facilitator, he guides participants to access insight into spiritual freedom through three fundamental principles: to live in harmony with nature, celebrate ancestral rites, and cultivate joy and love for life. As Deputy Director of Muuchxiimbal Maya Ceremonial Center ("Walk Together"), living there for over 15 years, he has created a self-sustaining community project, preserving Mesoamerican customs and practices. Together we will open our hearts to wisdom.
---
"Transformational Travel … not an escape from, but a return to! Receive an inner healing journey, give to the local community, and expand your world view. Embody the conscious change you want to see in the world."
---
About the Hotel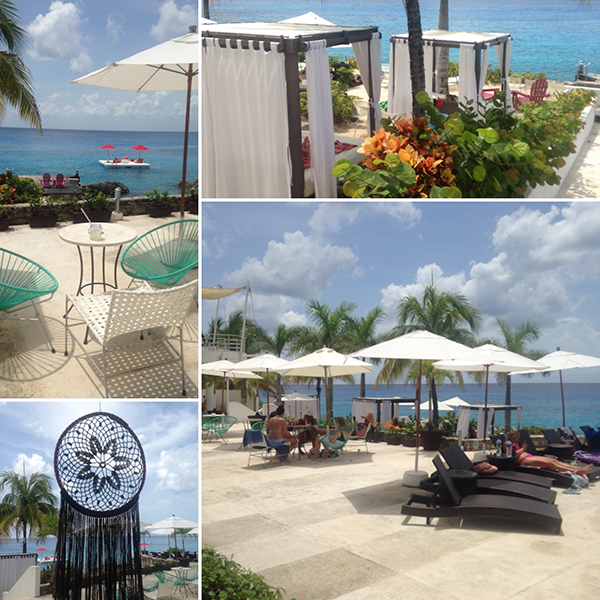 Hotel B is an intimate boutique hotel dedicated to wellness and creativity, located at the northern end of the island's hotel zone.
It is set on the edge of the crystal-clear blue waters of Cozumel, with its rustic rocks, and gentle ocean breezes. Enjoy vibrant sunrises and sunsets, be caressed by the salt-kissed air as you feel your stress melt away!

Unwind on one of the covered open-air cabana beds, take a refreshing dip in the pool, hop in the hot pool overlooking the ocean, snorkel and surround yourself with vibrant tropical fish, embrace the day with a variety of early morning yoga classes, enjoy relaxing massages at the spa, restorative Samhara™ Reiki provided by your host, and relax to some live jazz music in the late afternoon, or borrow a bicycle and explore nearby San Miguel with all its shops, restaurants, and entertainment. Return home and fall asleep to sounds of the soft ocean waves.
The healthy Mexican-fusion food is prepared with great care and attention to presentation, with fresh locally-sourced ingredients where possible. The Chef accommodates dietary needs and provides delicious vegetarian and vegan options too. I love their fresh juices (especially their pineapple and chaya juice). We will be dining together for breakfast and lunch in the casually elegant open-air restaurant which offers terrace seating with ocean view, as well as a more covered area.
All of the 45 modern rooms are so creatively beautiful and unique, with artisan-crafted decorative touches by Mexican artists. (I have enjoyed every stay here!) The rooms are spacious and clean, with air-conditioning, two double beds or a king size one, an en suite bathroom with shower, with natural body care, shampoo/conditioner, and soaps provided. Each room also has an in-room safe, coffee-maker, and blow dryer and a wide-screen cable TV. There is also filtered water available on each floor in hand-crafted Mexican floral ceramic dispensers. If you are craving a quick snack, there is even a mini bar fridge in the lobby with a handmade paper book that says "Be Honest" that allows you to add the snack onto your room chit. I find that so refreshing!
---
---