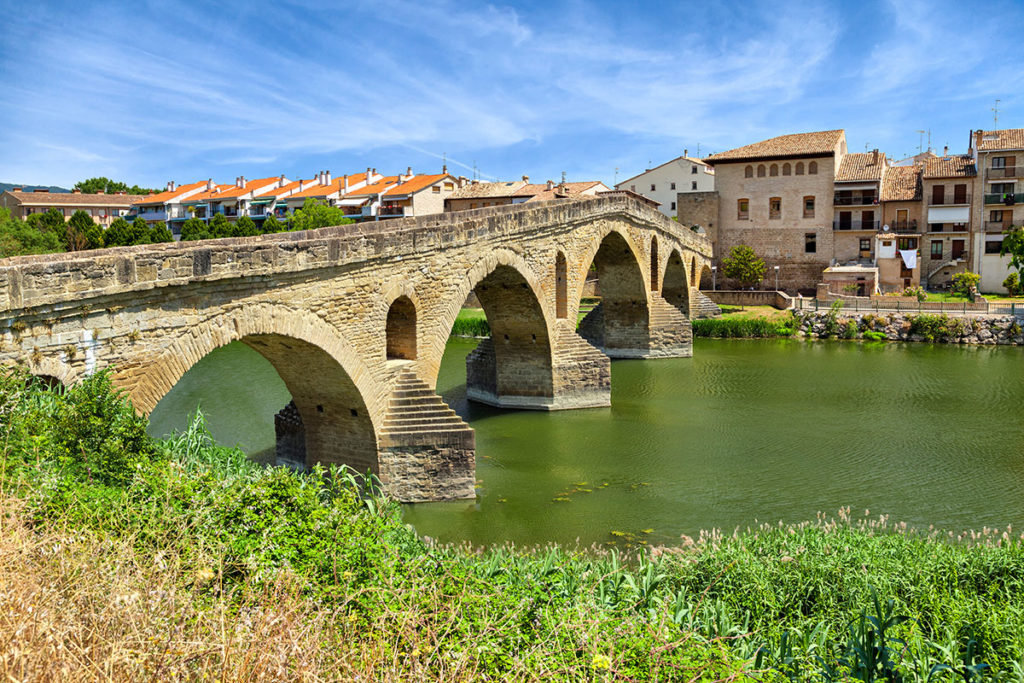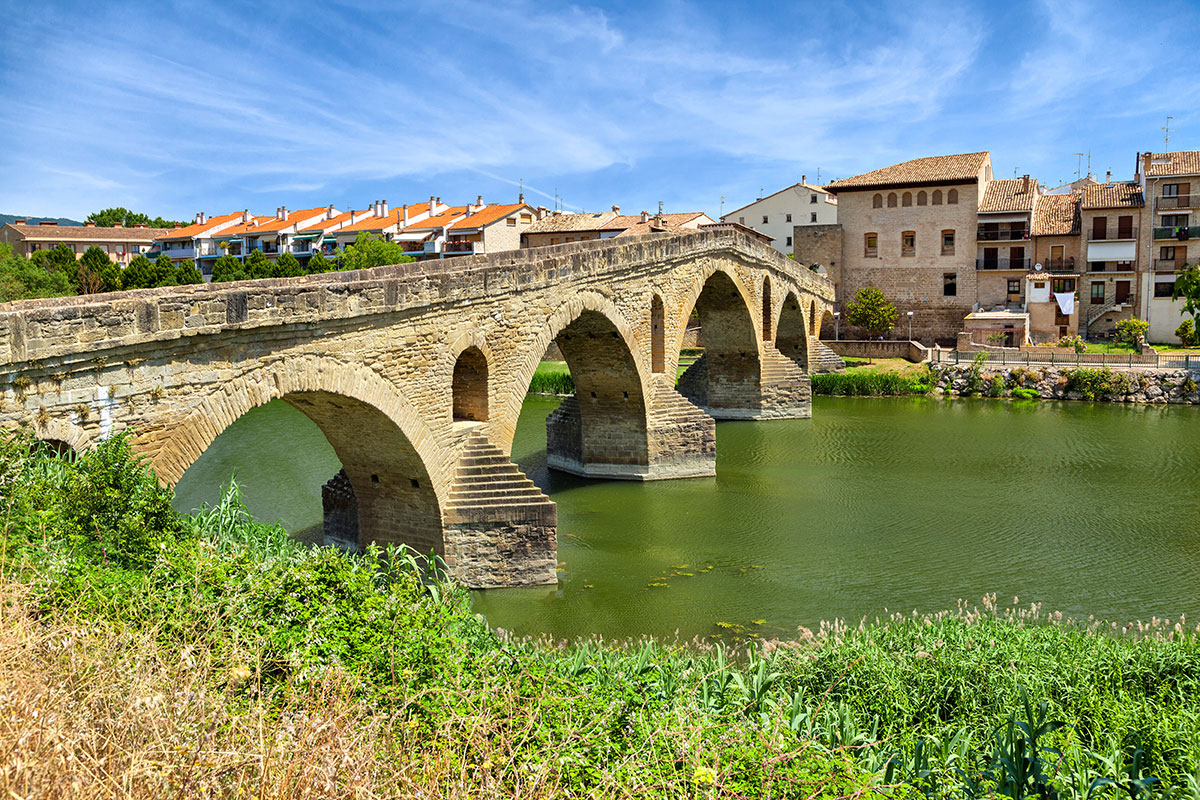 On this walking tour like no other, you'll experience charming towns and cities showcasing Spanish culture as you take the Pilgrim's Road to Santiago de Compostela.
Speak to our travel experts. They have spent a lot of time exploring our destinations. Their first-hand knowledge is the basis for organizing your perfect trip.
---
Overview
What's included
Just You Tour Manager as your host & Specialist Local Guide
7 nights in 3 & 4-star hotels
12 Included meals : 7 breakfasts, 2 lunches , 3 dinners including a welcome drink & farewell dinner
Free scheduled group transfers are available on arrival & departure, plus other transportation & porterage
Included excursions
Walk through vineyards & villages in Spain's Basque Country
Stop at Irache Monastery & enjoy wine flowing from the local winery fountain
Winery visit & tasting
Visit medieval Navarrete
Stop at Santo Domingo de la Calzada
Walk through the Campos de Castilla area
Visit Astorga's cathedral
Walk through the highlands of northern Spain
Enjoy a traditional lunch in the pretty village of Molinaseca
Visit Ponferrada's Knights Templar Castle
Explore the Celtic town of O Cebreiro
Walk from the Mount of Joy to Santiago de Compostela
Pick a seashell at Fisterra – the symbol of the pilgrim
Sample Spain's most famous wine during our visit to La Rioja wine region​​
---
Itinerary
Day 1 BILBAO
Make your own way to Bilbao where you can meet us for the scheduled group transfers to your hotel in Spain's Basque Country.
---
Day 2 PUENTE LA REINA – LAGUARDIA
Walk 5.2 km/3.23 mi – 90 mins
El Camino de Santiago was the most important religious and cultural route in Europe in the Middle Ages. During this tour we'll follow parts of its path, taken by pilgrims heading to Santiago de Compostela, also known as the Way of St James. Pick up a Pilgrim Route Passport for the perfect momento of your trip, which will be stamped en route. Today we'll head to medieval Puente La Reina, the meeting point of the Jaca Pilgrim Road and the French Way. We'll pause to admire the 12th century church of Santa María de Eunate before beginning our walk along the Camino de Santiago.
We'll pass though vineyards and charming villages until we reach the wine village of Lorca, where lunch is included. Our walk then takes us via the Monastery of Irache to the La Rioja wine region, before heading to Laguardia. Later we will head to a winery for a visit and to sample Spain's most famous wine.​
Meals included: B,L
---
Day 3 LAGUARDIA – BURGOS
Walk 5 km/3.1 mi – 90 mins
​Our first stop today is at Navarrete, a town built in the 12th century by the Knights of the Holy Sepulchre. Our walk takes us through more vineyards of La Rioja, from the royal town of Nájera. We'll continue by road to Santo Domingo de la Calzada, an important stopping point for pilgrims.
On arrival in Burgos, you can join an optional guided tour. Highlights include the only UNESCO- listed cathedral , a masterpiece of Spanish Gothic Architecture , and the famous Arco de Santa Maria. ​
Meals included: B,D
---
Day 4 BURGOS – LEON
Walk 5 km/3.1 mi – 90 mins
After breakfast we'll embark on today's walk, which takes us to the Campos de Castilla area, known as the 'breadbasket' of Spain due to its cereal production. The canal we'll follow was built for transportation of this commodity and a highlight will be its locks, which allow for a 14-metre drop in terrain. In the town of Frómista we'll have free time for lunch and the chance to admire the Church of San Martín. This evening we'll stay in León, where an optional tour will introduce us to its cathedral and the Casa de los Botines, designed by the architect Antoni Gaudi.​
Meals included: B,D
---
Day 5 LEON – PONFERRADA
Walk 6 km/3.73 mi – 2 hrs
Today we reach the town of Astorga, where we'll admire its cathedral and Bishop's Palace, another design by Gaudi, before passing the traditional village of Castrillo de los Polvazares with its stonebuilt houses.
Our walk takes us to northern Spain's highlands, where we'll stop at la Cruz de Fierro, where pilgrims would leave behind a stone or memento – a symbol of casting aside a burden. After a traditional lunch in the village of Molinaseca we'll drive to Ponferrada. Highlights of our guided tour here will be the Knights Templar Castle and Basilica de Nuestra Senora de la Encina. ​
Meals included: B,L
---
Day 6 PONFERRADA – SANTIAGO DE COMPOSTELA
Walk 5 km/3.1 mi – 90 mins
​We'll reach our goal of Santiago de Compostela today. First we'll make a stop at the Celtic town of O Cebreiro. One of the most picturesque villages on the Way of St James, we'll pause to admire its pre-Romanesque church and round stone houses. There's time for lunch in the riverside town of Portomarín – whose historic buildings were rescued stone by stone when it flooded, and moved to allow for a dam to be built on the Miño River. We'll then drive to Monte de Gozo, or the Mount of Joy, which is the first point at which pilgrims can view Santiago de Compostela after their long journey. Our final walk takes us into Plaza del Obradoiro, in the centre of the city.​
Meals included: B
---
Day 7 SANTIAGO DE COMPOSTELA
Walk 3 km/1.86 mi – 2 hrs 
​This morning we'll head to Fisterra, a historic fishing port where pilgrims would bathe in the sea to purify their souls and collect a scallop shell – the symbol of pilgrims. On a short stroll around the lighthouse here, see if you can collect a shell to take home as a wonderful souvenir of your trip.  This afternoon why not join our optional guided tour of Santiago de Compostela, the capital of Galicia, with its porticoed streets lined by granite architecture. 

We'll also visit the local market and we will have the opportunity to attend the pilgrim mass.  This evening we will gather as a group and head to a traditional Galician restaurant for a farewell dinner.​
Meals included: B,D
---
Day 8 SANTIAGO DE COMPOSTELA – DEPARTURE
Your tour comes to an end today. Scheduled group transfers are available to the airport. ​​Meals included: B
---
Accommodation
Day 1: HOTEL ERCILLA
Day 2: HOTEL SERCOTEL VILLA DE LAGUARDIA
Day 3: HOTEL RICE BULEVAR
Day 4: TRYP LEON
Day 5: HOTEL CIUDAD DE PONFERRADA
Day 6-7: HOTEL CUIDAD DE COMPOSTELA