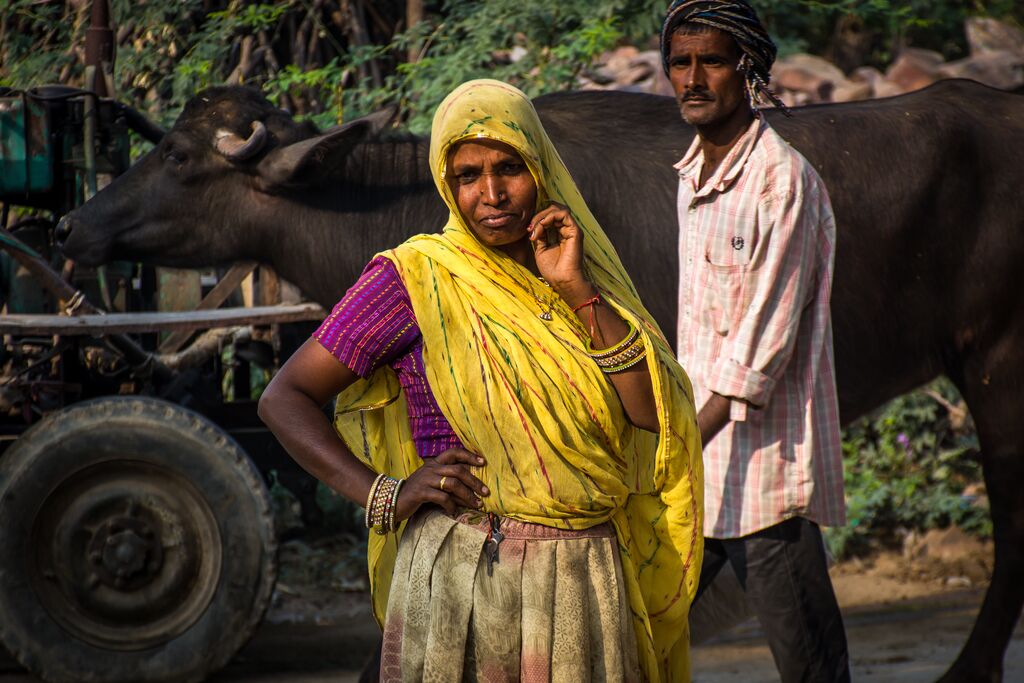 India attracts millions of visitors from across the globe each and every year. The country is blessed naturally, with beautiful mountains, plains, beaches, wildlife and more, but it's also home to some of the most incredible cities, towns and villages where you will find culinary delights and local drinks unlike anything else in the world. It's a country full of adventures for those seeking spiritual enlightenment or romance. It's a destination that has a little something for everyone. With Intrepid's India: Woman's Expedition, women will get a chance to see a side of the country they wouldn't get to see any other way.
The Places You'll See
Your adventure will begin in Delhi, where you will get a chance to travel in the female-only carriage on the metro, before taking a walking tour of Old Delhi and visiting the Chandni Chowk marketplace and the city's oldest mosque of Jama Masjid. In the Thar Desert you will get to meet local women and enjoy a traditional Kalbeliya dance performance and a traditional Rajasthani dinner. When you visit Jaisalmer you will take a walking tour of the desert city, and in Jodhpur you will get a chance to visit the Mehrangarh Fort that towers over the city and the Sadar Bazaar. If seeing a project that empowers female artisans is more your style, you will get a chance to do just that in the village of Chandelao Garh. In the small town of Nimaj, you will receive a traditional welcome by the local women, and take part in a women's only celebration. You will take a female-led tour of Jaipur in a rickshaw and visit the Raj Mandir Cinema. And a trip to India isn't complete without visiting India's most iconic landmark the Taj Mahal in Agra.
Things To Love
Visiting India is all about the sites and sounds of a country rich in history, but Intrepid's tour offers an opportunity to gain unique insight into the lives of the women who live there. Your all women-group is led by a local female leader, who will help immerse you in the culture of the region and see the country through their eyes. You will see parts of the country only women get to see, ride carriages only women get to ride, and take part in a celebration just for women. You will be inspired by the women of India by listening to their stories and seeing their handicrafts. It's an experience you won't soon forget.
Things To Keep In Mind
Intrepid's India: Women's Expedition involves some long train trips and an overnight train. For your security, you should bring along a lock for your hand luggage. While spending the night at the Thar Desert camp is beautiful, it is very simple with cots set up under the stars and basic bathroom facilities. Some the temples visited on the trip require a level of modesty, and you will need to cover your arms and have skirts or pants that go past the knees. The weather in India can be surprising. In the summer the heat can be extreme, and int he winter the evenings can be very cool. Please pack accordingly. Some part of the trip can be delated or occasionally cancelled due to heavy fog as well, but alternative arrangements will be made.
Visiting India is an experience that will give you stories to share long after you return home. Travelling together with other female explorers is an opportunity of a lifetime you won't want to miss, and Intrepid will take you there. Click here, or contact us today to find out more.
Intrepid has been taking people on adventures around the world for over 30 years. They are a responsible business that is committed to their customers, making sure they are there for them every step of the way. Whether it's their first adventure, or their tenth, Intrepid will always find ways for their travellers to experience something new. From new foods, to new learned skills, Intrepid takes people away from their home to have an experience of a lifetime. Along the way they make sure to respect the local communities and the environment of the places they visit, while bringing everyone closer together.