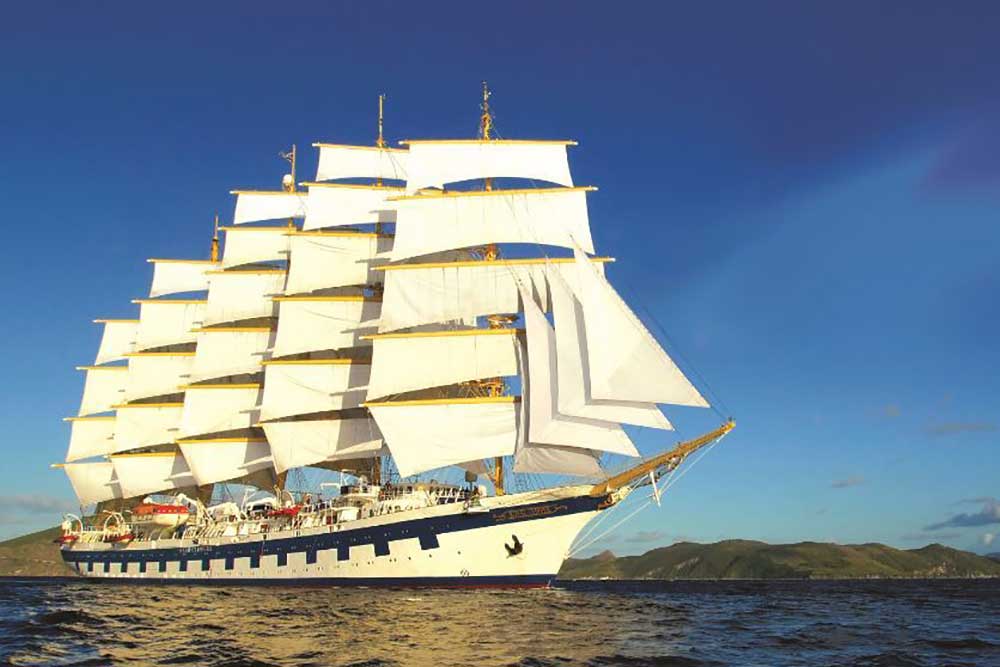 Talk of the Town Travel is proud to offer a Western Mediterranean cruise unlike any you'll find on another cruise ship. You will be aboard the Royal Clipper, the largest and only five-masted, full-rigged sailing ship. With a complement of 42 sails, the Royal Clipper is a splendid sight to behold. Experience the informal elegance, culinary delights, and gracious service in the intimacy of 227 gay and lesbian friends.
---
---
Day 1: September 24, 2020 – Cannes, France
Arrive at Nice airport and transfer to the Gray d'Albion Hotel in Cannes. The balance of the day is free time to start exploring this beautiful coastal city. This evening we will gather at the hotel for a welcome reception.
Day 2: September 25, 2020 – Cannes, France
This morning's included sightseeing reveals why Cannes is considered one of France's most attractive cities. Overnight at the Gray d'Albion Hotel. (B)
Day 3: September 26, 2020 – Cannes, France
Glittering Cannes is the archetypal Mediterranean resort city, discovered by wealthy English nobles who came to the sunny south of France to escape their drafty old castles during the dreary British winters. Cannes' high-flying lifestyle has attracted notables and the notorious ever since. Every year, the stars flock to celebrate the Cannes Film Festival at the colossal Palais des Festivals. (B/D)
Day 4: September 27, 2020 – Lerici, Italy
It was in the Villa Magni near Lerici that Percy Bysshe Shelley spent his last happy days before sailing his small boat on its stormy fatal voyage on July 8, 1822. Lord Byron, another Lerici literary resident, once swam across the Bay of Portovenere to visit Shelley, who was residing in San Terenzo. The small fishing villages of San Terenzo, Tellaro and Fiascherino and Montemarcello are similar to the more famous Cinque Terre. (B/L/D)
Day 5: September 28, 2020 – Portoferraio (Elba), Italy
From his villa in Portoferraio, Napoleon, the exiled Emperor of France, looked out over the waiting ships in the harbour and dreamed of returning to glory. Enjoy a local vineyard tour, and near Portoferraio, discover the remains of an ancient Etruscan civilization. (B/L/D)
Day 6: September 29, 2020 – Santa Manza Bay / Bonifacio, Corsica, France
Santa Manza Bay is the most famous beach in Corsica, and has justifiably been voted one of the Top 10 best beaches in Europe. Backed by mountains and pines, this is a beautiful stretch of powdery golden sand and shallow crystal clear blue water which deepens gradually. Various water sports facilities are on offer including windsurfing, jet-ski, kayaks and pedal boats, and there are plenty of snack bars nearby.
Bonifacio's almost land-locked harbor is one of the most dramatic, totally-protected harbors. It is a bustling port, with excellent seafood restaurants and a modern marina. The ancient citadel town is perched high atop a seemingly impenetrable cliff. (B/L/D)
Day 7: September 30, 2020 – Alghero, Sardinia, Italy
Alghero is the main resort in the northwest of Sardinia, and is one of Sardinia's most beautiful medieval cities. Its bustling historic centre is packed with excellent bars and restaurants, making it a great place to hang out. It is also ideally placed for exploring the beaches of nearby Riviera del Corallo. Interestingly, a form of medieval Catalan is still spoken, even though the Iberians left three centuries ago. (B/L/D)
Day 8: October 1, 2020 – Porticcio Beach / Ajaccio, Corsica, France
The resort of Porticcio is clean and modern, and there are several beaches in the town. There is a long sandy stretch called the Plage de la Viva that is quite lively, with enough activities going on that most people are happy to stay put. However, if you do feel like venturing away, then head south towards Filitosa. This prehistoric site is in a lovely countryside setting, and is one of the rare places in the world where prehistoric engraved stones can be seen.
Ajaccio has a justified reputation as a very stylish city. Napoléon Bonaparte was born here in 1769, and as you would expect, the city has many sites relating to him, from his childhood home to seafront statues, museums and street names. Its immediate surroundings are a paradise for hikers, mountain bikers, trekkers and climbers. It provides a whole range of outdoor activities which you can enjoy by yourself or with professionals. (B/L/D)
Day 9: October 2, 2020 – Monte Carlo, Monaco
Monaco is the fabled domain of princes and movie stars. The magnificent Palais du Prince and opulent Casino remind you of an elegant, pre-war era. With more wealth concentrated in one small area than almost any place on earth, this tiny principality retains its gilt-edged allure. (B/L/D)
Day 10: October 3, 2020 – Cannes, France
The Royal Clipper is set to arrive to Cannes at 6:00 AM this morning. If you're flying home today we recommend you schedule your departure flight from Nice (NCE) at 10:30 AM or later. All guests should plan to disembark by around 10:00 AM. Special exceptions may be made for guests with late departing flights. (B)
---
Inclusions
Airport transfer from Nice airport to host hotel
2 nights pre-cruise accommodation in Cannes
1/2 day tour of Cannes
7 nights cruise accommodation (Guaranteed all-LGBT charter)
Gourmet dining with all meals included during your cruise
House wine, all liquor, beer and soft drinks, except premium brands and Champagne
All-English language on board
Post-cruise transfer to Nice airport
Highlights and Sightseeing
Glittering Cannes, the archetypal Mediterranean resort city
The star-shaped Fort Stella in Portoferraio
Lerici Castle, a superb example of military architecture
Santa Manza Bay – one of the Top 10 best beaches in Europe
The ancient citadel town of Bonifacio, known for a bustling port with excellent seafood restaurants
Ajaccio – Napoléon Bonaparte's birthplace
Alghero – known for its cobblestoned old center and Gothic buildings, including the Cattedrale di Santa Maria
Plage de la Viva – a lively beach with many activities and visitors
Monoco's magnificent Palais du Prince and the opulent Casino