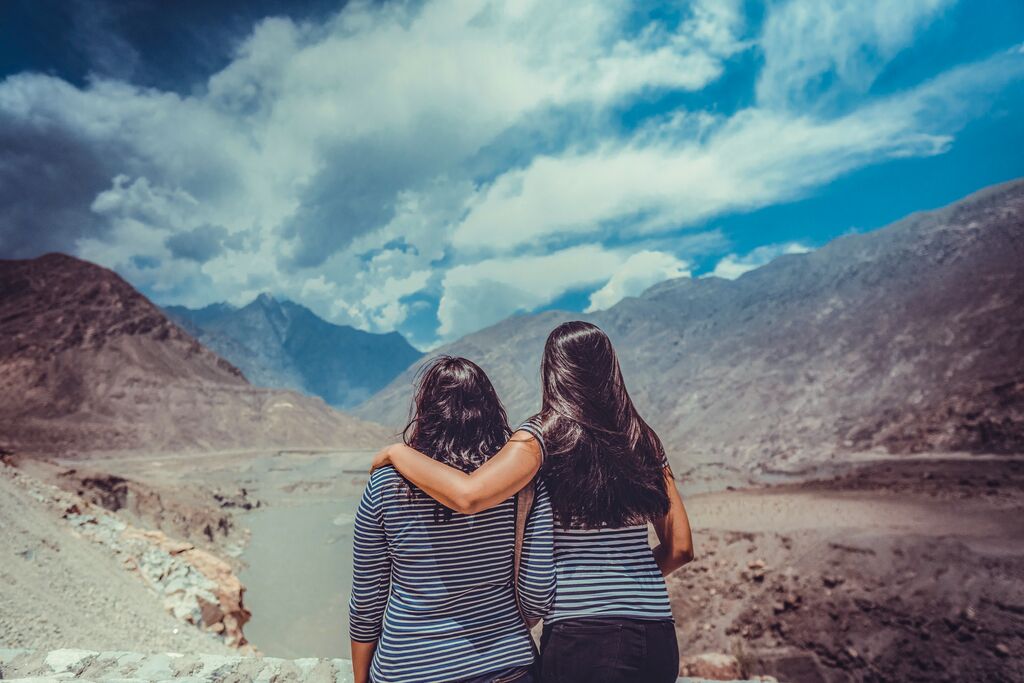 Pakistan is the fifth most populous country in the world, and is bordered by the Arabian Sea, the Gulf of Oman, India, Afghanistan, Iran and China. The country is not only known for the diverse spices and flavors found in their foods such as biryani, nihari and palau, but for their incredible Pakistani hospitality, ancient history, mountain ranges, ancient mosques and shrines, and so much more. Women looking for an adventure unlike anything they've ever taken, should consider joining Intrepid Travel on their Pakistan expedition for women; here's why.
The Places You'll See in Pakistan
Your expedition in Pakistan begins in the vibrant capital of Islamabad, where you will join a local female leader who will take you on a historical tour of the city. You will go shopping for local clothes, visit the female-only section of the Faisal Mosque and more. Next you are off to the village of Gulmit, your headquarters for the next four days. You'll travel on the Karakoram Highway, which journeys through the Karakoram mountain range. On your trip you will also get a chance to see the Rakaposhi mountain range. While exploring Gulmit you will visit a carpet-weaving centre run by local women, be pampered in a salon, visit the ruins of Ondra Fort, and trek out to Norith Lake and Passu Glacier in the Hunza Valley. Local women will also teach you how to make some Hunzai dishes in a cooking class. You won't soon forget your visit to the Hopar Glacier where you will get some incredible views of the Hopar Valley, visit Gilgit and explore local markets and buy some handmade clothes and jewellery. You'll want to have your camera handy for your hike through the Shah Allah Dita caves, exploration of the Golra Railway Station, and visit to Rawalpindi to see the Markazi Jamia Masjid.
Things To Love
It's not often you will get a chance to travel to Pakistan and be guided by a local female leader. It's her job to show you the country through the eyes of the women living there. Her knowledge and insights will make it an unforgettable expedition. Throughout your entire adventure you will have the chance to chat with local women and learn about their lives and how they are working to empower their communities through local projects. You will enjoy spending time with pioneering women who own businesses such as female-only salons, and who gladly share their wisdom including carpet-weaving, cooking classes and more. It's a chance to immerse yourself in remote villages surrounded by mountains and glaciers. It's a once in a lifetime journey that will give you stories to share with all your friends and family.
Things To Keep In Mind About This Expedition
Intrepid's Pakistan: Women's Expedition visits places up to 3600 meters above sea level. For some people this can cause altitude sickness. The weather can be unpredictable as well, especially up in the mountains, and some flights to and from Islamabad and Gilgit are delayed or cancelled. The trip also involved long travel days, which can be tiring.
Visiting Pakistan is an experience that will help you learn what life is all about. Travelling together with the women in your group is an opportunity of a lifetime you won't want to miss, and Intrepid will take you there. Click here, or contact us today to find out more.
Intrepid has been taking people on adventures around the world for over 30 years. They offer responsible travel and are committed to their customers, making sure they are there for them every step of the way. Whether it's their first adventure, or their tenth, Intrepid is a travel company that will always find ways for their travellers to experience something new. From new foods, to new learned skills, Intrepid takes people away from their home to have an experience of a lifetime. Along the way they make sure to respect the local communities and the environment of the places they visit, while bringing everyone closer together.