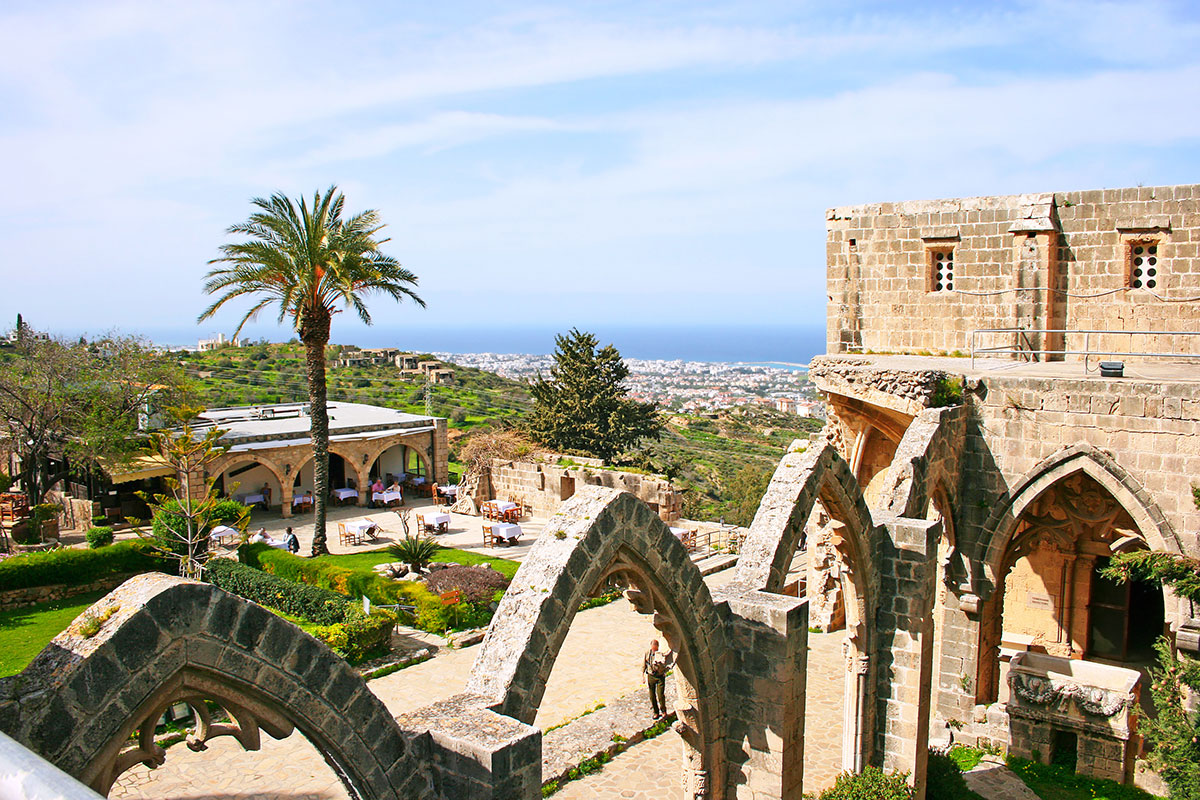 ​​Cyprus offers year-round sunshine, picturesque landscapes, ancient ruins and medieval walled towns. Uncover thousands of years of history on this relaxing vacation.
---
Speak to our travel experts. They have spent a lot of time exploring our destinations. Their first-hand knowledge is the basis for organizing your perfect trip.
---
Overview
What's included
Just You Tour Manager as your host & Specialist Local Guide
7 nights in 4-star hotels
15 included meals: 7 breakfasts, 1 lunch, 7 dinners, including a welcome drink & farewell dinner
Free scheduled group transfers are available on arrival & departure
​Other transportation & porterage
Included Holiday Highlights
Kyrenia Castle & harbour tour
St Hilarion Castle & Bellapais
A day of tasting with the locals
---
Itinerary
Day 1 Larnaca
Make your own way to Larnaca, where you can meet us for the scheduled group transfers to your hotel in the ancient town of Kyrenia.
---
Day 2 Kyrenia
After breakfast, join your Tour Manager for an included guided tour of Kyrenia Town. We'll discover the horseshoe-shaped Venetian harbour and Kyrenia Castle, which boasts a fascinating Shipwreck Museum. You may choose to visit this during free time. It houses one of the oldest trade ships in the world, which was discovered in the 1960s after laying on the seabed for more than 2,000 years. The afternoon has been left free, so you might choose to make the most of your hotel's facilities, which includes two swimming pools.
---
Day 3 Kyrenia – At Leisure
Today you can join our optional excursion to the ancient city of Salamis, home to a treasure trove of ruins. Highlights of our tour include the Roman bath house, which still displays traces of its original mosaics, a gymnasium boasting an elegant colonnade and impressive statues, and a restored Roman amphitheatre. We'll continue to the medieval walled town of Famagusta. Stroll around the walls and take in sights including the 14th century St Nicholas Cathedral, the Venetian Palace, St Barnabas Monastery, the abandoned quarter of Varosha and the Royal Tombs, which date back to around the 7th century BC.
---
Day 4 St Hilarion Castle & Bellapais Monastery
Our included excursion today takes us through picturesque countryside to the Kyrenia Mountains, also known as the Five Finger Mountains. Firstly we will visit St Hilarion Castle with magnificent views, and after we will visit the village of Bellapais to see the ruins of its 13th century monastery, a fine example of Renaissance Gothic architecture.
---
Day 5 Kyrenia
After breakfast, we will drive to Kozan village, west of Kyrenia, and watch the locals making halloumi cheese and bread, before heading to the Kozan Restaurant to have our lunch in a great atmosphere. Return to our hotel in the afternoon.
---
Day 6 Kyrenia – At Leisure
Our optional excursion today takes us on a scenic drive to Guzelyurt on the west coast. We will visit the St Mamas Church and the archaeological Museum, we'll then visit the Soli Mosaics and the Vuni Palace ruins and stop for lunch at Gemikonagi, a small harbour village.
---
Day 7 Kyrenia – At Leisure
You can spend a further day at leisure or maybe you'll join our optional excursion to Nicosia with an included lunch. The capital of Cyprus is split in two by the 'Green Line', dividing the Turkish and the Greek Cypriot communities. A stroll through the Old Town will introduce a picturesque combination of 16th century walls, pavement cafés, charming squares and historic monuments such as St Sophia Cathedral and the Kyrenia Gate. After your guided tour there's time to explore with your fellow travellers or indulge in a spot of shopping.
---
Day 8 Larnaca – Departure
Your tour comes to an end today. Scheduled group transfers are available to the airport.
---
Accommodation
Hotel Pia Bella
Your hotel occupies a lovely spot about a 20 minute walk from Kyrenia's historic harbour and a wide range of shops, restaurants and bars. This family run hotel is located only 3 miles away from its nearest beach and is set amid spacious, tranquil gardens.
All hotel rooms have air-conditioning, tea and coffee making facilities, safe box, TV, hairdryer, balcony and town-facing rooms.
Other hotel facilities include a choice of restaurants, bar, two swimming pools and swim-up bar (outdoor pools and swim-up bar open in summer only), casino and free WiFi in public areas. The Terrace is open during the summer season where you can enjoy breakfast and dinner with beautiful views of the garden. The garden bar has a tranquil setting, so why not enjoy a drink at night under the stars.