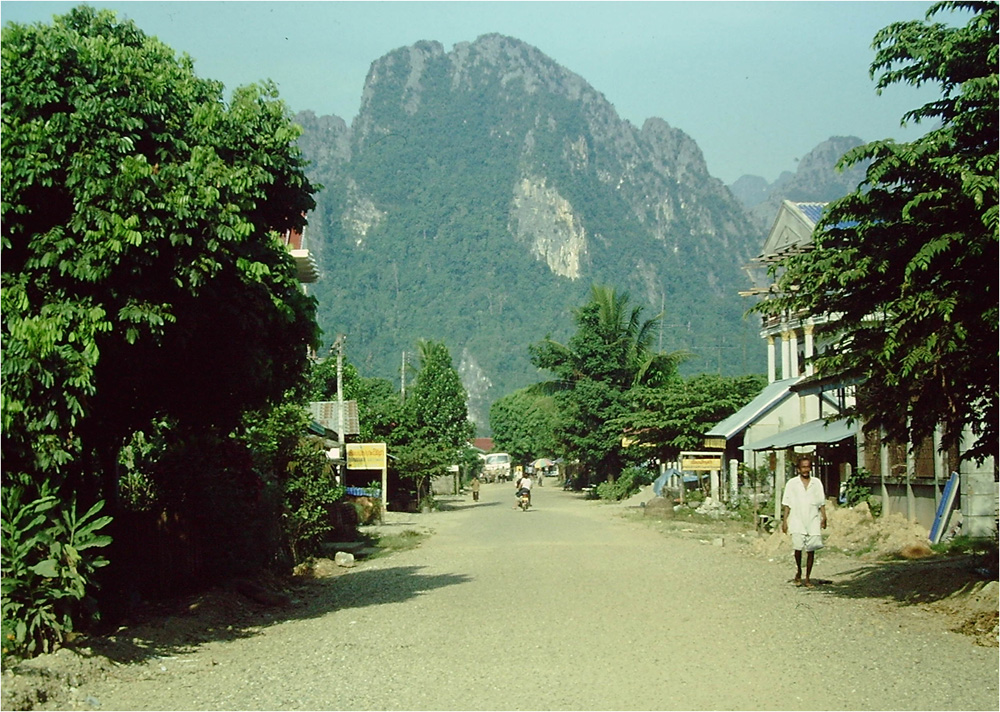 If you've been to one of the 1092 U.N.E.S.C.O. World Heritage Sites, you are sure to remember it fondly. From Old Quebec, to Machu Picchu in Peru and Petra in Jordan, the U.N. designation is used sparingly to recognize a place well preserved historically and culturally, while providing very special experiences to any traveler. One such place is Luang Prabang, the ancient capital in the southeast Asian country of Laos. Sandwiched between Thailand, China, Vietnam, Cambodia and Burma, Luang Prabang never fails to stand out by treating the senses and inspiring travelers visiting the country.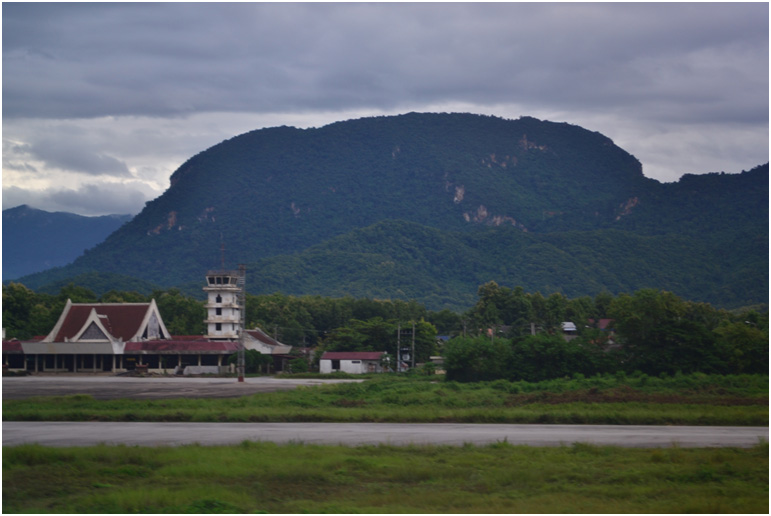 How to get there
Luang Prabang can be reached by air, mainly from Bangkok and Vientiene using Lao Airlines, Bangkok Airline and Thai Air Asia (approx. US$75 one way). Make sure to get a window seat for the 1.5 hours flight, because the scenery is breathtaking with a view of lush green forests and a chain of mountains below. Once you arrive, you'll have a short wait to pay for a visa at the immigration desk, which is required for most countries. Canadians pay US$42 for the 30 day tourist visa, while Americans pay US$35. Once you've been processed and head outside, you'll find it easy enough to get a driver to take you into the city. The trip is a mere 20 minutes to reach the old part of the city, where your experience will begin.
Old Luang Prabang
The main attractions of this great city are found in the older part where you will witness ancient Buddhist rituals, visit centuries old temples, appreciate Laotian and French architecture and eat a variety of delicious Laotian, Thai, European or American meals on the streets, in cafes or restaurants. Old Luang Prabang is on a small peninsula where the Mekong and Nam Khan Rivers meet, so you are never too far from the water. There are a wide range of places to stay from cheap hostels to expensive, Laotian-style hotels.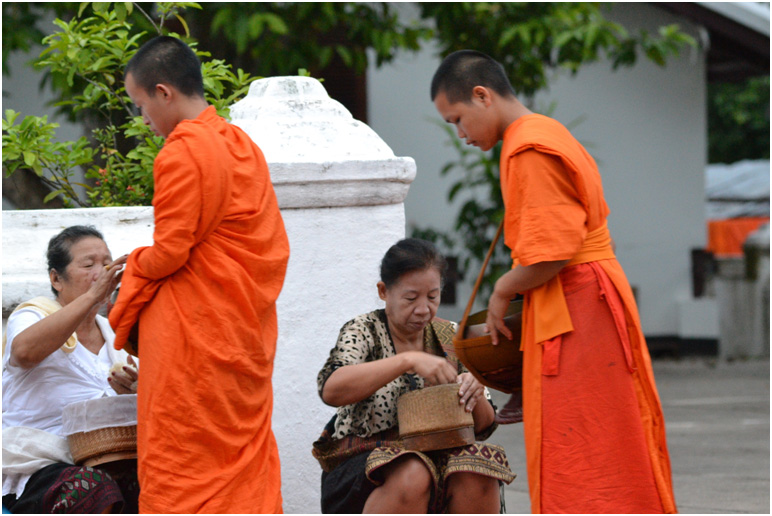 Alms giving, Monks and Temples
One of the unique features of any Buddhist area in southeast Asia is the ceremony of alms giving which in Laos is called Sai Bat. It takes place each morning starting at 5:30am when hundreds of orange-robed Buddhist monks come out from the temples and monasteries to receive offerings of food from the townspeople. It is a sacred moment for the mostly young novice monks, and is also a blessing for a practicing Buddhist to give them sticky rice and other food in their alms bowl. The monks are not allowed to eat past noon each day until the following day's sunrise, so needless to say they are ready to eat when they come around. Once they have made their rounds they will go back to the monasteries to prepare and cook their food. The entire ceremony is done in silence and with reverence.
If you wish to view this ritual there are a few do's and don'ts you need to pay attention to. For starters, you should observe the ritual in silence and contribute an offering only if it has meaning for you and you can do so respectfully. You don't have to make an offering, but if this is the case, please keep an appropriate distance away (at least 5 metres) and don't get in the way of the monk procession or those making offerings. This also means you should shouldn't try to take photos up close, use a camera flash, or even worse, try to take a selfie with a monk. If you want to make an offering, buy sticky rice at the local market earlier that morning or from the vendors who sell the rice along the monks' route. It's very important that you dress appropriately as well, which means shoulders, chests and legs should be covered. You should never follow the procession on a bus either, because this will put you above the monks, which in Laos is disrespectful. Above everything though remember that protecting the dignity and beauty of the alms giving ceremony is the most import aspect of being a part of it.
Throughout town, you will see monks cleaning, studying or socializing after they have eaten and some are willing to talk with visitors in English. The monks are quite approachable and are usually interested in engaging with foreigners. Of course part of the reasoning behind this is because one of their practices is to get to know the world through personal life experience.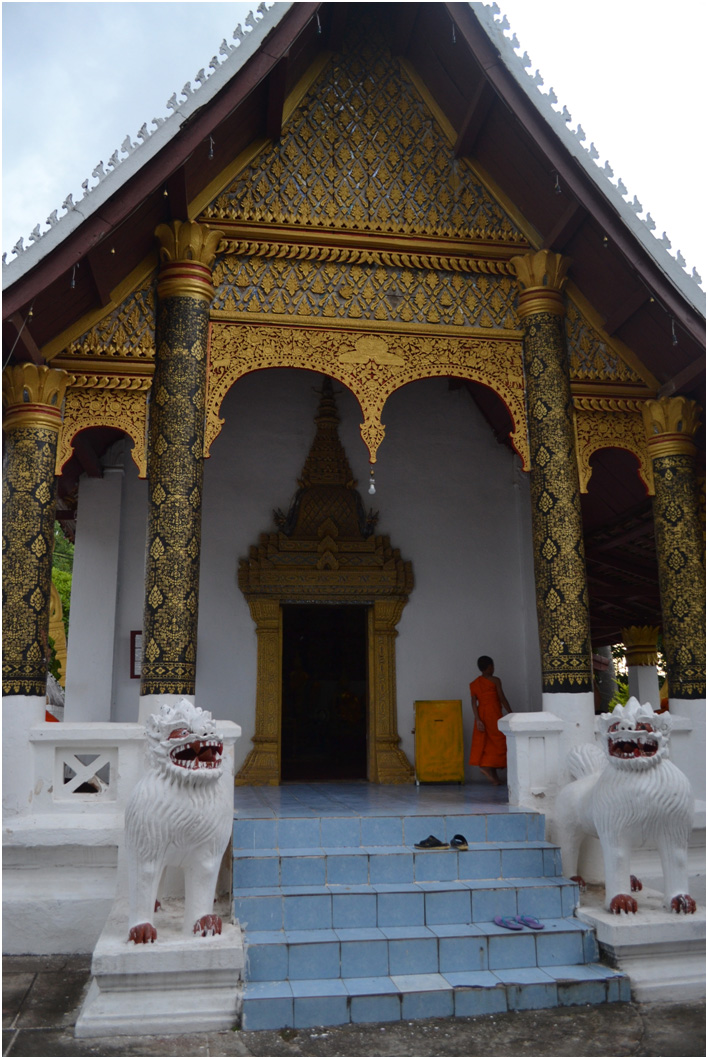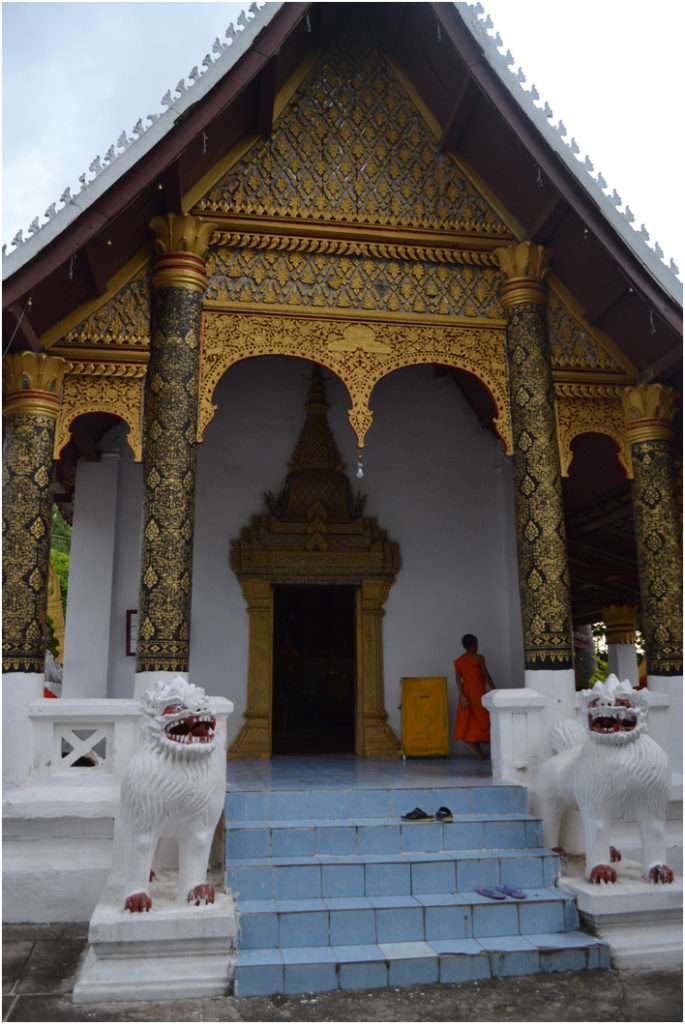 Temples and Wats
In total there are 34 wats or temples in the city, making it one of the most religious cities in all of southeast Asia. The largest one, Wat Xieng Thong, was built between 1559 to 1560 by the Lao King. It is also known as "The Temple of the Golden City" and is located near the confluence of the two rivers. It is a very important monastery for teaching the young novice monks and has over 20 structures on its grounds. The detail of each structure is quite striking and well defined such as the Red Chapel's mural of rural life, the Buddha statues, the protective dragons on the ceremonial barge, funeral temple and the congregation hall. The congregation hall itself has an intricately decorated interior and exterior that rivals any major religious centre in the world for its artistic qualities. The cost to get into this priceless treasure is a mere 20 000 Kip.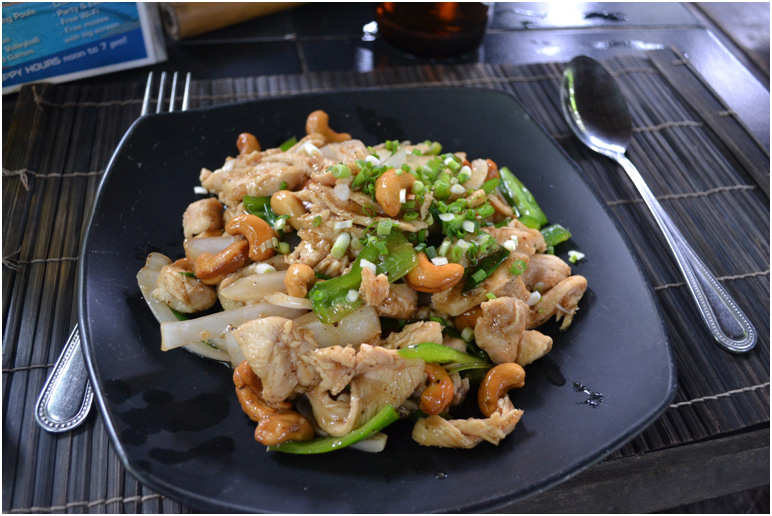 Food and Drink
The city is blessed with an abundance of food choices from Lao and Thai restaurants to French style cafes to North American specialties. You can eat very cheaply on the street, moderately in most places, or in expensive, fine restaurants found throughout the city. The greatest concentration of restaurants are found in the main tourist area of Old Prabang. Some of my favourites include BBQ dishes, sugar cane juice, banana and chocolate pancakes, noodle soup, baguettes, salted fish, spicy papaya salad and coconut rice pancakes. You'll also want to visit the night market, where I found an incredible array of fruit and vegetable juices available for 10 000-20 000 Kip (approx. $1.50-3.00 CAD).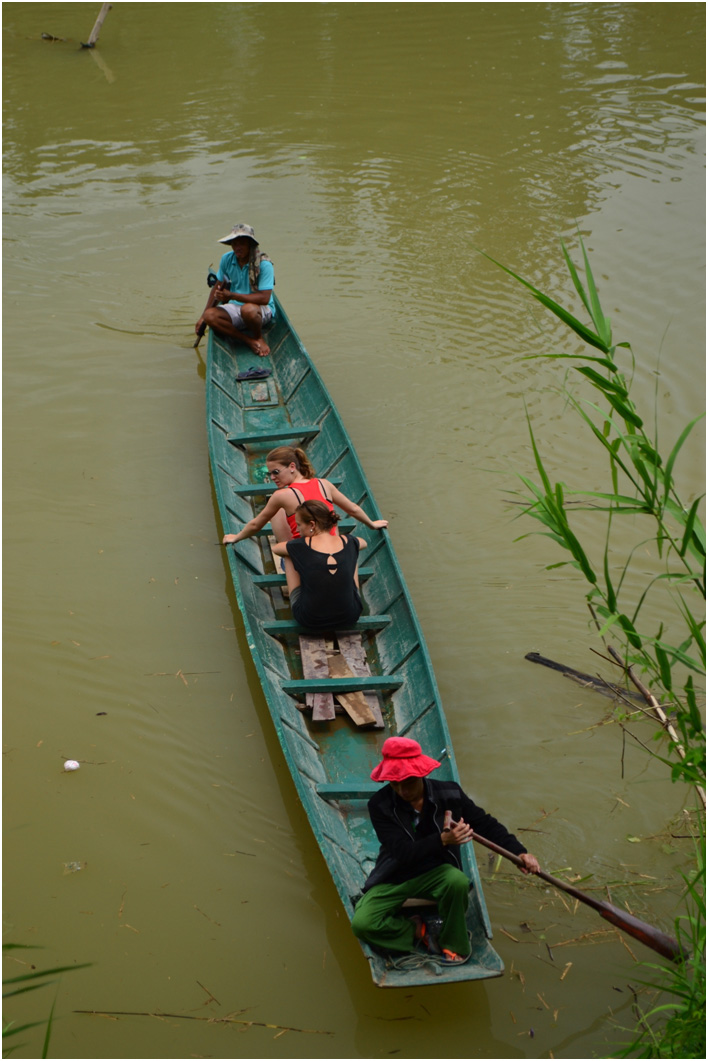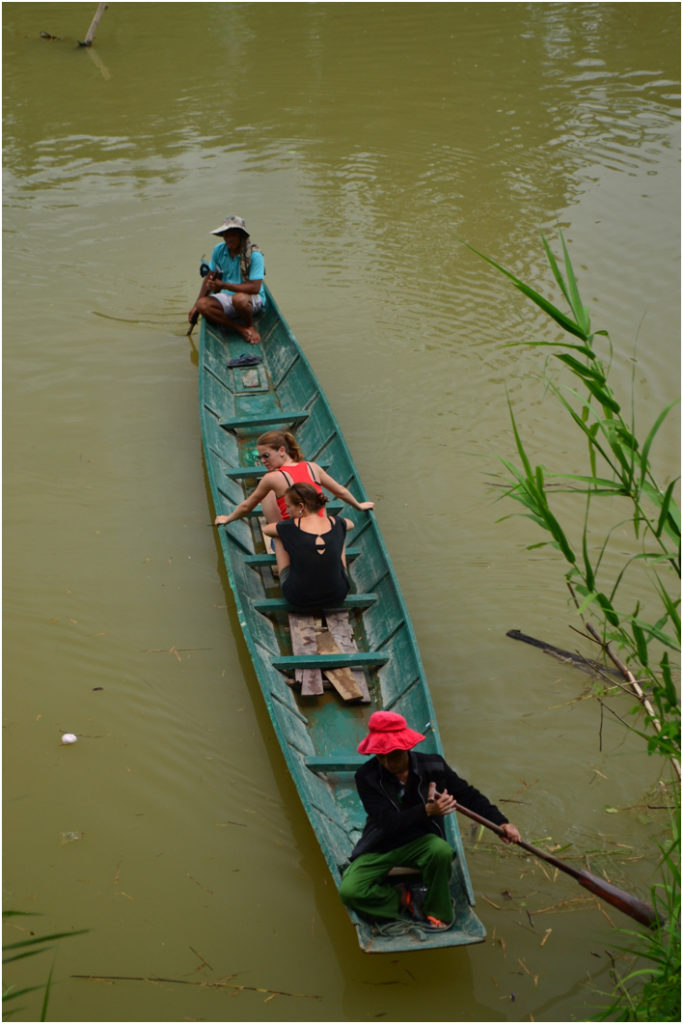 If you visit in early August like I did, you will find that each day is very hot, and with all the walking you will do in the old city, you will find yourself becoming quite thirsty. While most people will tell you that water is the best for you, I find that nothing is as soothing as a cold beer or soft drink. I'd recommend trying the popular Beerlao at a place like the Phamsai Houngchalern restaurant that overlooks the Nam Khan River where you can enjoy the cool breeze as you watch boats go by, or the Dyen Sabai restaurant on the opposite bank of the Nam Khan River. The Dyen Sabai restaurant even offers a free boat shuttle to get to it, and once there you'll be in the lap of luxury as you sit on traditional Lao cushions surrounded by tropical vegetation.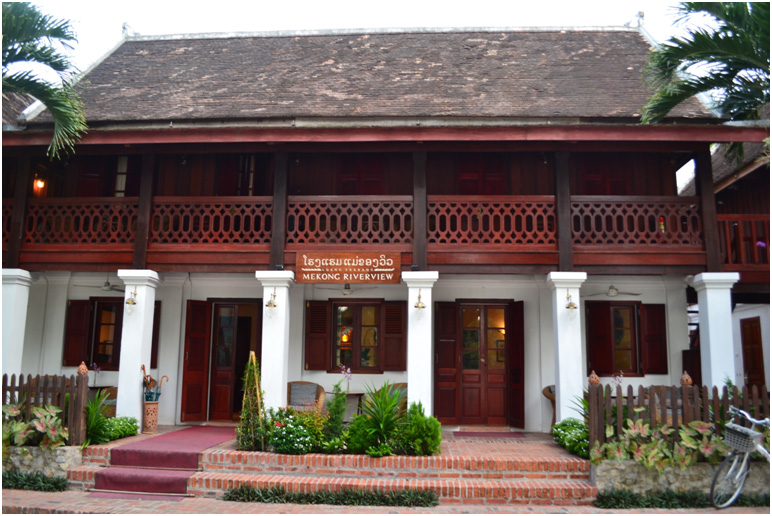 Accommodation
With the advance of the tourism industry in Luang Prabang, there is a wide range of 3 to 5 star hotels offered in both the old and new part of the city, all with a high standard of value. The most preferable area to stay is the old part since most of the attractions are found there. A few of the suggested places include the 3 star hotel Le Sen Boutique Hotel, which has a pool to cool off in after a hot day of exploring, the 4 star Maison Souvannaphourn, a French colonial-style hotel near the Mekong River and the luxurious 5 star Luang Say Residence made up of colonial villa suites to cater to every guest's needs.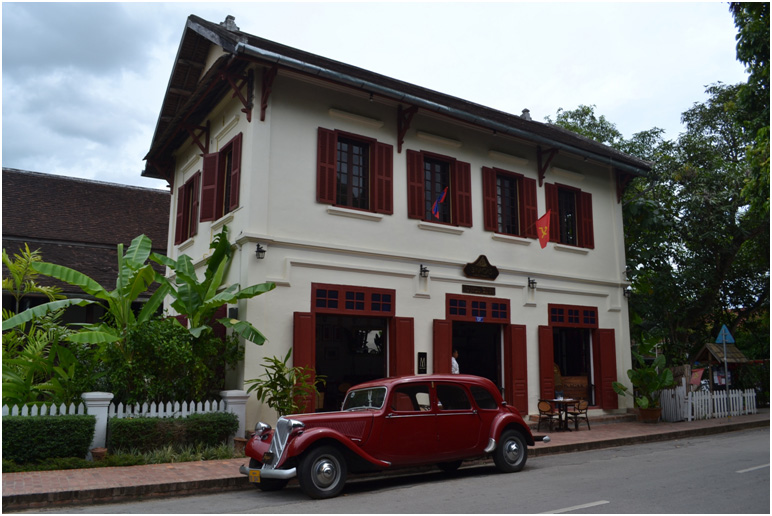 Walking around town
You can get anywhere you want in Old Luang Prabang simply by walking. It's easy to explore the many alleyways and roads, without fear of getting lost because the distances are not too great. You will find that being in between the two rivers gives you many photo opportunities anytime of the day, including sunrise and sunset. You will also see the range of French and Laotian building styles throughout the old town, which beg you to take pictures of them.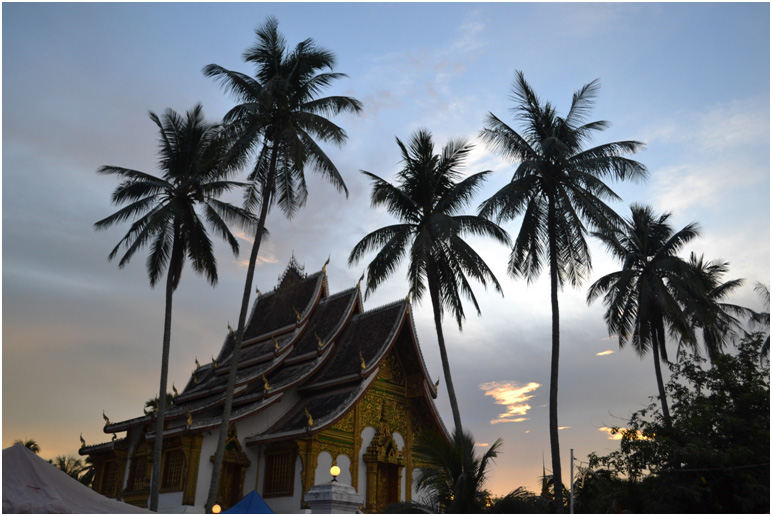 Mt. Phousi at Sunset
One of the most awe-inspiring and physically challenging activities is the climb up the sacred Mount Phousi to see the city below during sunset. There are two entrances on both sides of the mountain, with the most popular one being near the night market and the National Museum. The first set of steps may seem daunting as you look up at them, but in reality it is only 328 steps which will take a person in reasonable shape roughly 15-20 minutes. There is an entrance fee of 20 000 kip (about US$2.50), which is extremely reasonable.
Once you get to the top you can see well beyond Luang Prabang. The 360 degree view that awaits includes the new and old parts of the city with the confluence of the glistening Mekong and Nam Khan Rivers in the foreground.
One bit of advice, it is best to get there about an hour before the sunset or you risk having another person's head in your way. After all with the sun setting over the distant mountains people come from all around to vie for the perfect spot to get the best pictures. There is also a small temple at the summit known as Wat Chom Si with a golden Buddha statue built in 1804 in it, but it is best to wait to go in until you have seen the sunset.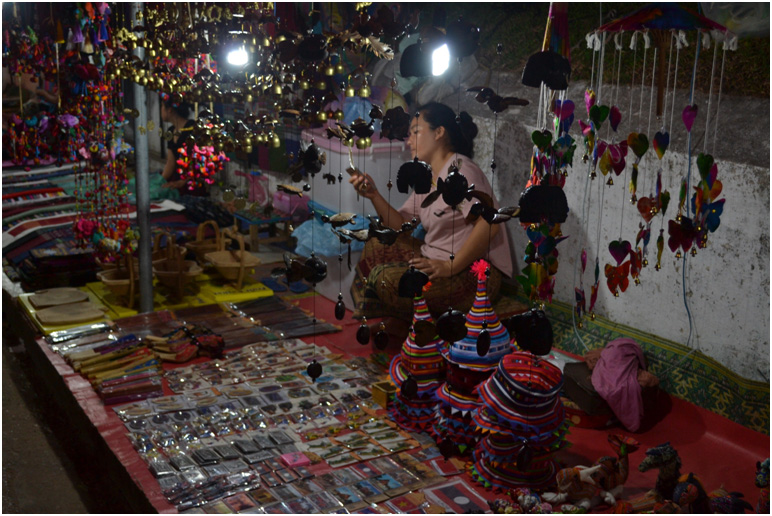 Night Market
The Talaat Dala street market comes alive each evening starting at 4pm when a portion of Sisavangvong Rd is closed to traffic. This market is opposite of the National Museum, and vendors sell a wide range of clothing, jewelry, bags, souvenirs, birds, hand-made crafts, food and drink. For a few hours, weather permitting, you will find an interesting assortment of wares, including some that are made from bomb materials left over from the U.S.'s bombing of Laos during the Vietnam War. All in all, the market makes for a lively and interesting place to bargain and help support the local economy.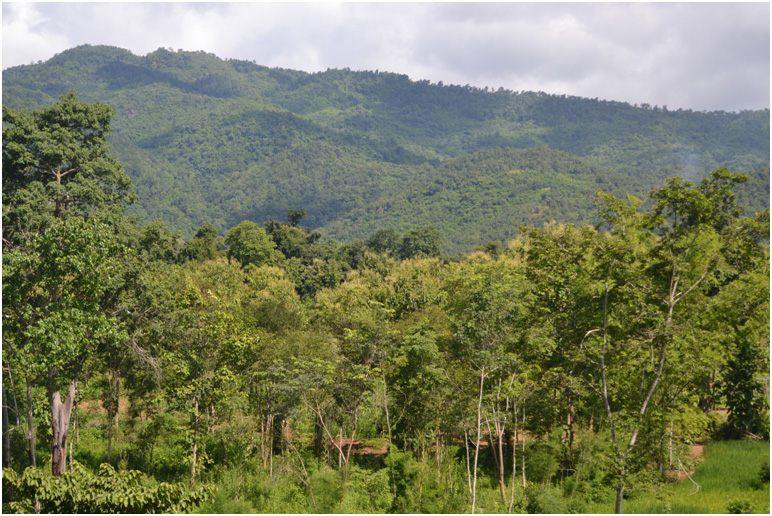 Kuang Si National Park
Laos is a lush green country with so many tropical forests and mountains, that making the highway drive to the Kuang Si National Park by hired car (approx. $55 CAD for half a day) is a beautiful trip in itself. As you travel through the rural areas you will see rolling hills, rice fields, and several small villages and towns. The park is only about an hour away from Luang Prabang, but you are sure to take a few stops for photos along the way, so the journey will be longer than that.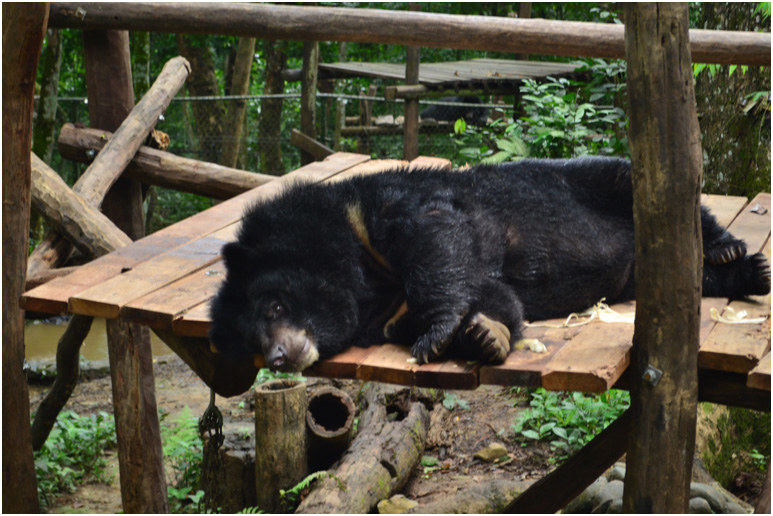 Kuan Si Park includes the Tat Kuang Si Bear Rescue Centre operated by an organization called "Free the Bears". This animal friendly group helps bears that have been injured or left behind by their group. There are approximately 20 Asiatic Black bears here, and each have their own name and a devoted group to take care of them. There is only a suggested donation for the centre and is a great place to stop before hiking up the multi-level paths and waterfalls. The photogenic area is a great place to enjoy hiking, swimming, picnicking and spending time with family.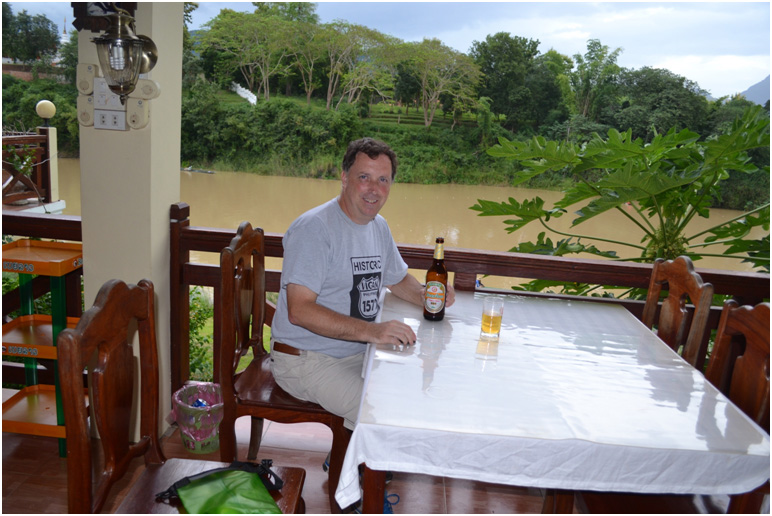 Until Next Time…
Admittedly, three days isn't enough time to spend in Luang Prabang, but it is enough time to wet your appetite and make you want to come back for more. In three days you will get a sample of what you can see or do there. You'll explore the old part of the city, eat very well, learn about Buddhism and witness its rituals, possibly talk with a monk, discover beautiful landscapes and of course see some of the most unique temple structures in all their glory. In the end all your senses will thank you, so it is well worth the time, effort and money to get there.
Talk of the Town Travel offers several packages where you can explore some of the amazing sites I experienced in my travels. Call us today at (416) 960-1393 or email at info@talkofthetowntravel.com to find out more.