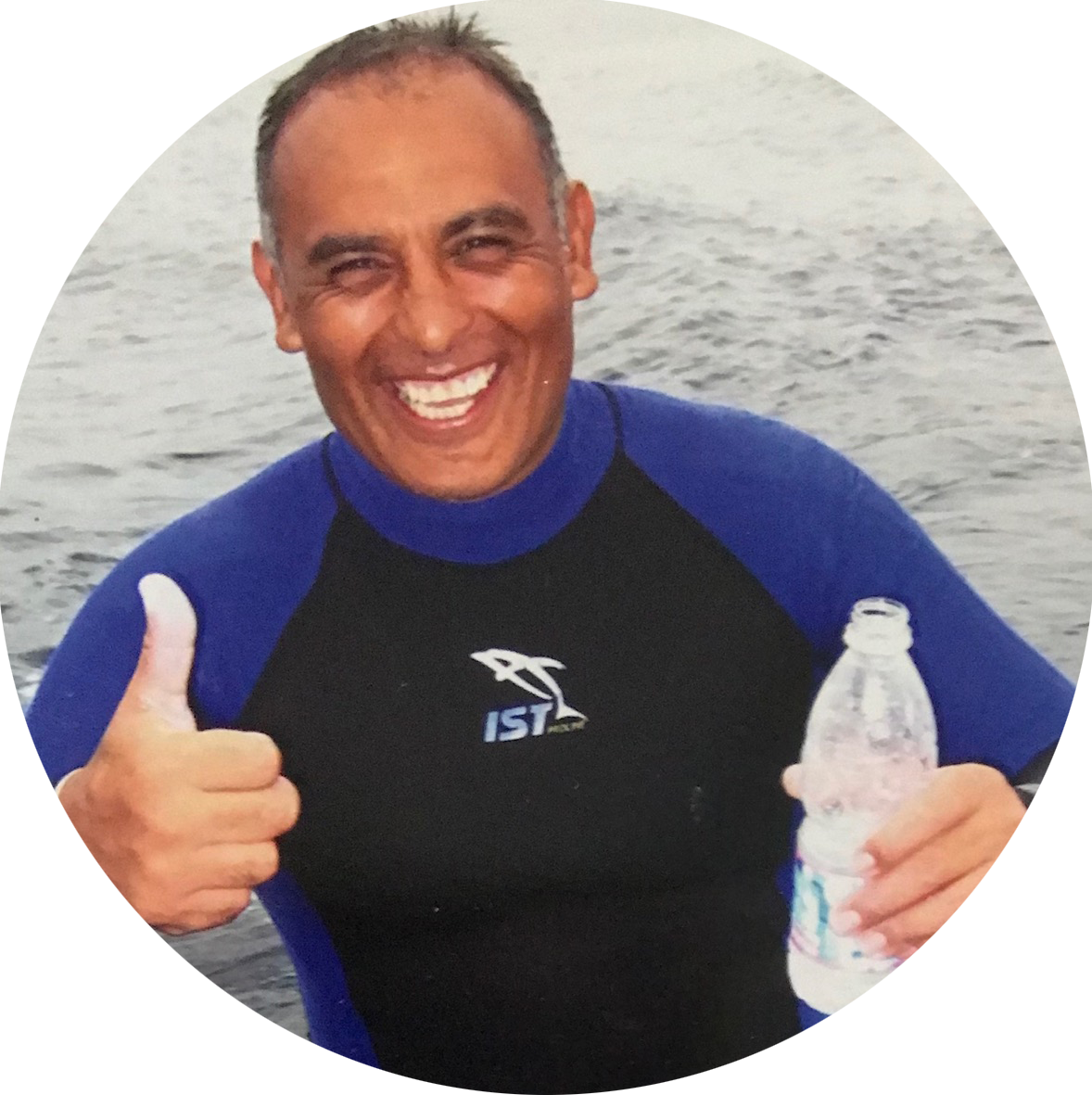 MY CONTACT DETAILS
info@talkofthetowntravel.com
(416) 818-1423
---
With over 20 years of experience in the diving industry in Cozumel, Javier Luna has successfully, and safely guided thousands on dive trips. Javier's current passion is to focus on working with one to four people so that each diver gets the highly personalized attention they deserve so they can keep enjoying scuba throughout their lifetime.
He deeply cares about the quality of your diving experience and enjoys helping people like you to keep getting back into the water. Whether you're discovering scuba for the first time, or wanting to dust-off and improve your scuba skills, Javier will help you to feel at home in the water as you gain greater confidence with your skills.
Passionate about sharing his love for the ocean and all its lovely creatures, Javier Luna's knowledge of Cozumel's reefs will open your eyes to a whole new world. You will explore the beautiful reefs of this jewel of an island in the Mexican-Caribbean in an eco-conscious way by learning about how to care for and protect the reef.
He's a warm, friendly, caring, easy going, clear, and enthusiastic instructor who has the natural ability and innate sensitivity to recognize how to respond to meet his student's needs in the water so that they can receive a positive scuba experience.
So, whether you're an experienced diver, refreshing your skills, or just getting started, Javier can offer you that personal touch and extra care during your scuba explorations on the island. The #1 reason Javier's repeat customers share for coming back again and again to dive with him is, "Javier exudes a calm presence. . . You just feel 100% cared for, underwater and above. . . ."

Credentials:
Specializations:

Deep Diver
Night Diver
Drift Diver
Underwater Naturalist
Enriched Air Nitrox Max 40% O2
---
What They're Saying
"Javier has the most personalized approach to a dive operation we have ever encountered. (Since we have 2000+ dives each we feel worthy of some judgment.) Not only is he attentive to the mechanics (gear, weights, experience, etc.) of each individual, he also hunts for and identifies via flashcards the creatures, fish, and juveniles (some of which we haven't even heard of). This is the dive experience we all hope for. Javier will always be our 1st choice dive operation in Cozumel."
Laurel & Stan Ross
Washington County/City of Forest Lake
Cooperative Construction Agreement
"Thank you, I really appreciate you today. It means a lot to help my daughter recover from the bad experience last year. Now, she loves diving because of your instruction today." ~ Jeremy Scheuerman from Pennsylvania
"I was looking for the 6th star but I had to settle for 5. I have been licensed for over 20 years and I have been diving in Tahiti, Norway, Hawaii, Belize, The Red Sea, the Mediterranean, and much more. A small group of us decided to go diving in Cozumel. We wanted a customized experience. Javier was recommended by several of our contacts. Wow – did we have a remarkable experience. We were a small group with mixed diving experiences, which was handled impressively well, without slowing anybody down. Javier is an impeccable guide and planner. Period. The service-mindedness, friendliness, professionalism, flexibility, and attention to detail were above anything I had experienced. His English is fluent. Javier knows the waters around Cozumel better than any, after some 25 years as a Scuba Master there. It is my absolute pleasure to recommend Javier for your next diving experience." ~ Moten Roising
---
PRIVATE DIVE TRIPS WITH JAVIER