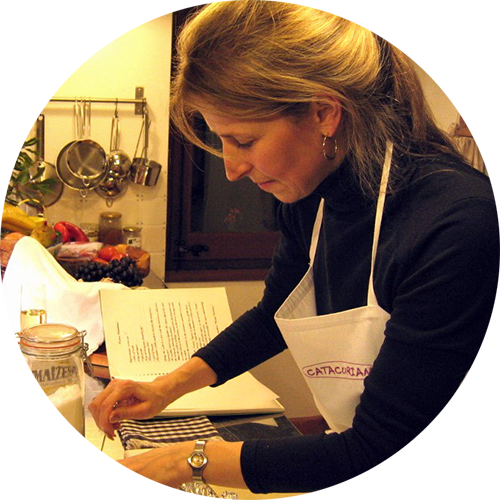 MY CONTACT DETAILS
jackie@talkofthetowntravel.com
www.gourmetsafari.com
---
MAKING DREAMS COME TRUE!
I'm a lover of four things in my life – food, travel & culture, meeting people and giving back (just ask anyone who knows me)! These passions make me happy and are the pursuits that I find rewarding – my recipe for the perfect dish. To me, success in life comes about by following your passion, making your dreams come true and somehow making people's lives better! I always wonder, how can I make a difference in the world? These words always come to mind as I create my life.
MY LOVE OF FOOD
My Home Kitchen, My Apron Strings
This is where it all started…from the time that I was little, I always had an interest in cooking – watching (especially sampling) as my mother prepared our family meals. We had just immigrated to Canada from England. As you may know, England wasn't exactly on the culinary map at that time! My mom taught me many basic skills of the kitchen – soups, sauces, gravies, roasting meats. The food wasn't exactly gourmet cuisine, but I loved it. To quote my mother, "The English were just well-done meat 'n potatoes people!" How true was that!
Galloping Gourmet
I then found (and fell in love with) Graham Kerr, the Galloping Gourmet…remember him (I know, I'm dating myself now)! It was a brand new concept for television, a 'live-action' cookbook – how cool was that! I went on to develop an even greater interest in food as I watched, learning more about cooking from TV than from my own home kitchen (don't tell my Mom).
Spreading my Culinary Wings to Paris
I spent some time living in Paris, France where I worked as an 'au pair' (nanny) for a French film actress. What better place to go in the world to expand my culinary horizons than France – the birthplace of classical cuisine. Yes, I know how to pick 'em. I spent a lot of time in the kitchen learning Parisian and Moroccan cuisine inspired by the Moroccan maid. It was an amazing gastronomic experience as I discovered the flavours and nuances of international cuisines. My taste buds were now fully awake, as I gained a true appreciation for great food, and I mean really great food! The foodie 'switch' was fully turned on (to prove it, I gained 20 pounds)! Yep, chocolate was my weakness – not French men!
MY LOVE OF TRAVEL & CULTURE
My love of travel goes way, way back to my childhood. I used to love to pretend that I could fly. I'm not sure how this all started (probably with a dare), but my friend Miriam and I would scale her garage and 'fly' from the rooftop. We would sit on the rooftop ledge and stare out over the rooftops into the distance. We pretended that we were birds doing what they do best…flying of course. We sang a nursery rhyme about birds in flight ("Two little dickie birds sitting on the wall) and then we would jump into the air one at a time! I loved the feeling of being in flight, the freedom (even if it only lasted seconds before the earth was at my feet).

Years later when our family moved to the country, I was constantly reminded of my love of flying. I would stare up into the sky and watch the con trails drift by from airplanes flying overhead. It was as though they were skywriting a message just for me "Come fly with us!" I was 'hooked' I wanted to be on those airplanes, I had to find a way to fly!
Ground School
I decided to go to school to study travel and tourism (yeah, I know – not exactly rocket science) – that was my ticket to the world of flying and travel (pun intended). From there, it was nowhere but up! I graduated and went on to work for 20 years experience in the airline industry – 10 1⁄2 of them I spent working for one of the most reputable brands in the world – British Airways (it's still my favourite airline). I did absolutely everything in the airline industry (except fly airplanes) – I dispatched aircraft, loaded baggage (yes I did without breaking a fingernail), worked as a flight attendant (that was the glamorous part of my career), did passenger check-in and concierge service and finally ended my career by working in sales and then project manager of interactive marketing for British Airways (that was my ultimate airline job). My career ran the gamut!
My Culinary Travel Experiences
Working in the airline industry allowed me to travel to 54 countries (to date) to pursue my love of local cultures and their cuisines. On many of my culinary journeys I participated in delicious cooking classes – some of the most memorable cuisines that I discovered were Thai, Creole and Bajan, Indian, Moroccan, Chinese, Laos (yes Laos cuisine is delicious). The most interesting cooking lesson that I had was in a taxi in Cuba with my sister once our driver found out that I was a gourmet cook (I told you I always talk to taxi drivers)! As our driver drove us, he told us in painstaking step-by-step detail in Spanish how to make arroz moro (black beans and rice), I couldn't wait to make it! I admit it, I'm addicted, I'm a foodie destination collector, I'll travel anywhere for the food and talk to anyone about food!
My Culinary Destinations (to date)
Argentina, Australia, Austria, Barbados, Bahamas, Belgium, Canada – 7 Provinces, China, Costa Rica, Cuba, Cyprus, Czech Republic, Egypt, England, Fiji, France, Germany, Greece, Haiti, Hong Kong, Hungary, India, Italy, Ireland, Jamaica, Japan, Laos, Malta, Mexico, Monaco, Morocco, New Zealand, Portugal, Puerto Rico, Russia, Scotland, South Africa, Spain, St Kitts, St Lucia, St. Maarten, St Thomas, Sweden, Switzerland, The Netherlands, Turks & Caicos, Thailand, Turkey, United Arab Emirates – Abu Dhabi & Dubai, United States – 18 States, Venezuela, Vietnam, Wales.
My Travel Philosophy
I love to get out there and explore the world…it's a big one, with 196 countries to explore (and I've only explored 54 of them, sometimes just dipping my toe in the water…as in the Caribbean). After I turned a milestone birthday, I decided right then that I'd explore the same number that matched my years…OK, no secret, I'm 52 (yes, I have two extra countries). I have many future travel aspirations on my 'bucket list' in the big world, especially the world of food – Chile, Lebanon, the entire Spice Trade Route, North Africa, Indonesia, Cambodia, Tibet, Nepal, Himalayas, Iceland, Greenland…the list is endless…only 144 countries left to explore!
MY LOVE OF MEETING PEOPLE
Meeting people is something that I love to do. I would have to say that my love of people started way back when I worked at customer service check-in for a small northern airline called Bearskin Airlines (yep, Bearskin Airlines…I've heard every single joke in the book about the name). My career in customer service and meeting people spanned from this little northern operation to working for an international airline, British Airways in their exclusive 'Concierge Special Services'. My role was to 'touch' people, the wealthy, affluent, influential travellers of the world (I could write a book of all of my experiences). I loved my job and I so loved meeting people from all walks of life from around the globe. I will talk to anyone (just ask anyone who knows me). When I travel I always talk to taxi drivers to find out about their lives, I talk to people on the streets, anyone and everyone just living their lives. I just love learning about people, everyone has a story and I love hearing people's stories!
MY LOVE OF GIVING BACK
My love of meeting people leads me to my love of giving back – from large to small, in any way, shape or size, I LOVE to give back. I suppose this all started with my move to the big city of Toronto. I had never, ever seen people on the street before (in the north its too cold for that, ain't nobody got time for that). I couldn't believe that people were homeless and hungry. I was saddened, touched and this inspired my wanting to give back somehow. When I was out on the streets, I would share my food or some money if I didn't have food to give. I could only give back to one person at a time and I was always touched by their response of my giving and caring – small gestures of kindness and smiles go a long way. As a lover of all things food & travel, I also LOVE to share my knowledge and expertise with foodie travellers wanting to explore the expansive world of authentic culinary travel. The world is your oyster and I welcome the opportunity to share my culinary travel knowledge!
---
What They're Saying
Dear Jackie, I arrived today, tired and jet lagged but completely relaxed. Laura and Giorgio were excellent hosts, they made me feel so at home. as for Florence / Sienna / Luca / Pisa / Assissi / Rome I have seen quite a bit of Italy, it was wonderful…both Laura and Giorgio had only good things to say about you. it was a pleasure planning all of this with you, it turned out very well. Thank you again, and all the best! ~ Ava E.
We thoroughly enjoyed our cooking class with Paula. She was very friendly and knowledgeable and made us feel right at home. Even the 6-year old in our group got in on the action. The traditional Tuscan food we prepared was delicious and I can't wait to try the recipes at home. ~ Ann T.
Monique could not have been more charming – she really went out of her way, she was so helpful. What a beautiful, beautiful setting. I would highly recommend this vacation to anybody. She couldn't have been more accommodating – she took me to Tours and to the surrounding areas – and she insisted on waiting for me. I'd love to go back there when the sun is shining. And I always knew what was happening when planning this trip with you, it's very important. ~ Julie R.
Hi Jackie! We had a fantastic time in France. Provence was definitely the highlight, and meeting Patrick was a real treat. Chantel and Regis at La Garance are two of the best people we have ever met. They, along with Patrick and Babette went out of their way to make us feel at home and we couldn't have had a better experience. ~ Mike W.