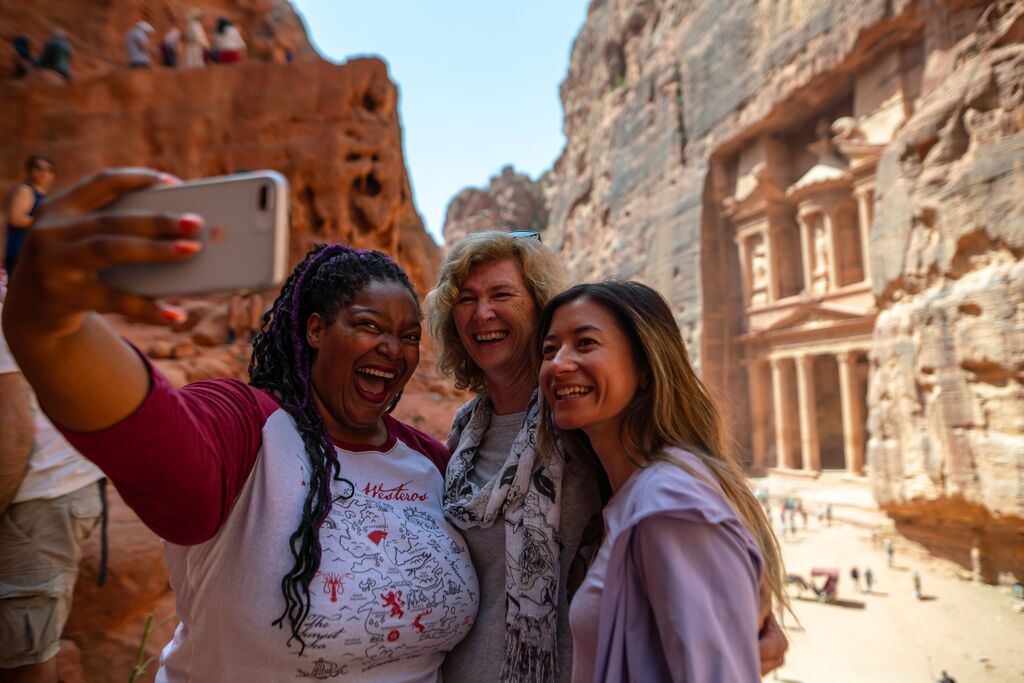 The Western Asia country of Jordan is right in the crossroad of Asia, Africa and Europe. This desert nation is a major tourist destination for its historic landmarks, rich culture and beautiful geographic sites. It becomes even more amazing when you get a chance to look closer at the lives of the people who live there. Now, thanks to Intrepid, women will get a chance to get a deeper understanding of Middle Eastern women during an eight day adventure in the country.

The Places You'll See
By joining Intrepid's Jordan: Women's Expedition, travelers will get to spend a night in Wadi Rum, home of the sandstone mountains, where they will get a chance to learn the art and the history of henna with the Bedouin women. They will be able to relax at a female-only beach and have the opportunity to float in the Dead Sea. In Petra they will get to learn about traditional matchmaking, learn cooking tips, and relax at afternoon tea. On a walking tour of the country's largest city of Amman, tourists will get to see the citadel, Roman Odeon, the Roman Theatre, and take a stroll along Rainbow Street. In Jerash they can explore the Greco-Roman ruins, and in Mt Nebo they can visit the sanctuary which honors the prophet Moses. Over the course of 8 days there is so much to see and do that you will wish you had more time to explore.

Things To Love
Not only does the Jordan: Woman's Expedition allow you to see sites typically not seem by tourists, but it takes care to respect the traditional cultural values of the locals. The locals welcome you in and teach you cooking, Henna, weaving, and traditional matchmaking. Tour guides take you on a tour of the desert, Roman ruins, Petra, and more. It's more than just a vacation, it's an experience.

Things To Keep In Mind
As a desert country, Jordan can be very hot and dry during the day, and cool at night. You'll need to dress appropriately. You'll need a hat, sun protection and study, yet comfortable walking shoes. Warm clothes and a sleeping bag are recommended when travelling outside during the summer. While Wadi Rum is memorable, the desert camp is basic and there are tents and shared bathroom facilities. There will be a fair bit of walking as well, especially when visiting Petra and Wadi Rum.

Visiting Jordan is an experience that will give you stories to share long after you return home. Travelling together with other female explorers is an opportunity of a lifetime you won't want to miss, and Intrepid will take you there. Click here, or contact us today to find out more.

Intrepid has been taking people on adventures around the world for over 30 years. They are a responsible business that is committed to their customers, making sure they are there for them every step of the way. Whether it's their first adventure, or their tenth, Intrepid will always find ways for their travellers to experience something new. From new foods, to new learned skills, Intrepid takes people away from their home to have an experience of a lifetime. Along the way they make sure to respect the local communities and the environment of the places they visit, while bringing everyone closer together.