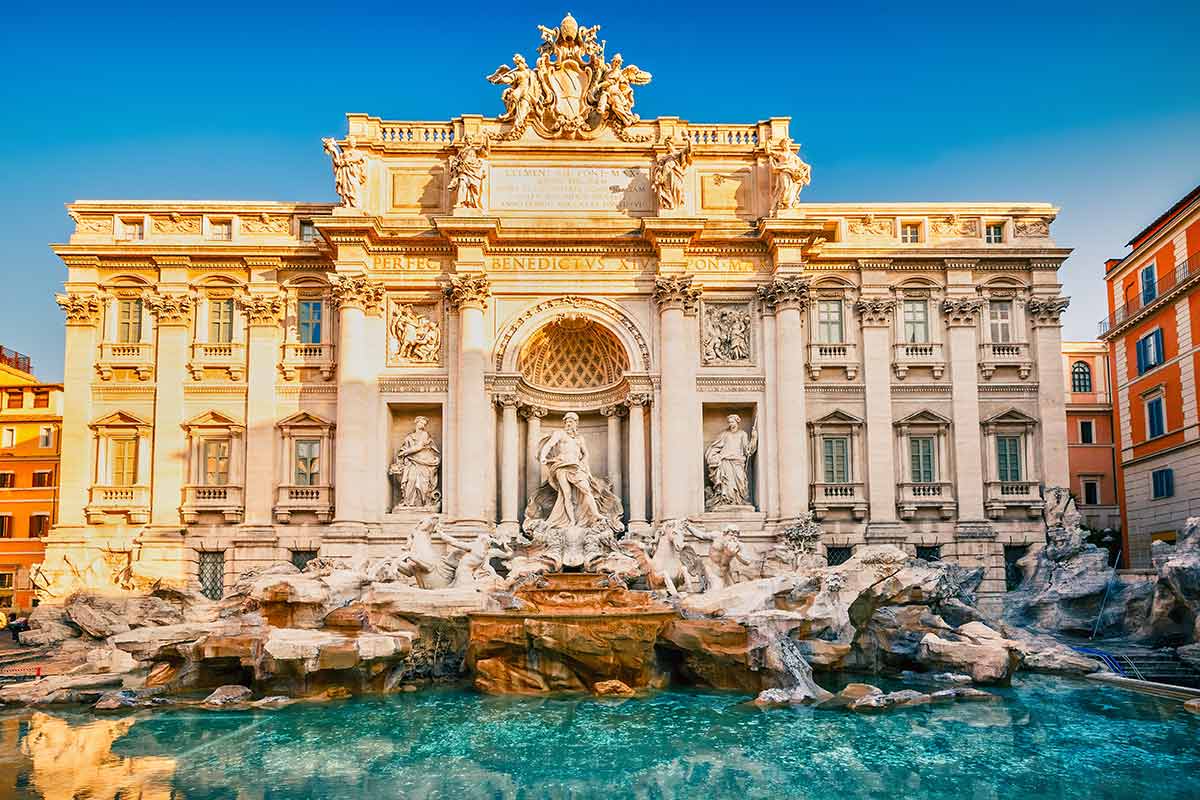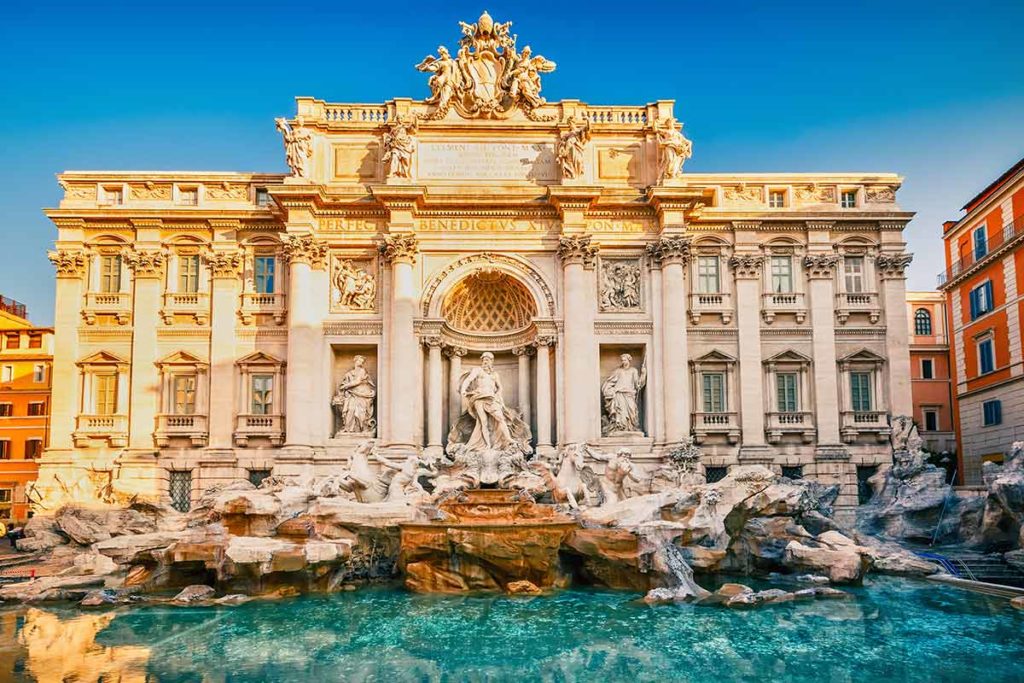 On this seven-day Grand Rome, Florence and Venice rail journey, you'll discover all the beauty and allure of three of Europe's most legendary cities. During your two nights in Rome, throw coins into the Trevi Fountain, explore the Forum and Renaissance architecture, ancient ruins, and world-class museums. Stroll through Florence's piazzas and meandering alleyways, enjoy some authentic gelato or mouth-watering artisanal cuisine, and make some memories on the Ponte Vecchio. Wrap up your trip with the picture-postcard perfect Venice, with its iconic canals and gondolas, stunning basilicas, and cozy seaside restaurants serving cicchetti (the Venetian take on tapas).
---
Speak to our travel experts. They have spent a lot of time exploring our destinations. Their first-hand knowledge is the basis for organizing your perfect trip.
---
DAY 1 – ARRIVE IN ROME
Welcome to Rome! Upon arrival, check in at your hotel for a two-night stay. Come the evening, be sure to visit the Trevi Fountain and throw in a coin or two. The architecture is quite spectacular when lit up at night. (Overnight in Rome)
DAY 2 – ROME
Today after breakfast, you'll be picked up your hotel in the early morning for a small group tour. First, tour the Vatican Museum and marvel at the ornate ceiling of the Sistine Chapel before discovering the rest of the "Eternal City." Then, explore the heritage of ancient Rome with a visit to the Colosseum and the Roman Forum. Let us know if you'd like to organize a walking tour. Having a guide during these tours is key to understanding all the sights and fascinating stories that surround them! (Overnight in Rome)
Included Meals – Breakfast
DAY 3 – ROME TO FLORENCE
Enjoy breakfast and then take a relaxing hour and a half train from Rome to Florence. On arrival in Florence, make your way to your hotel and check in for a two-night stay. Once you get your bearings, start exploring this beautiful and historic city. Enjoy your included gallery tour of the famous Uffizi museum. After dinner at one of the many fine restaurants in the area, enjoy a Florentine gelato, considered by many to be the best in the world. (Overnight in Florence)
Included Meals – Breakfast
DAY 4 – FLORENCE
After breakfast this morning, spend another day discovering Florence with a small group walking tour. Take a stroll across the Ponte Vecchio (the oldest and most famous bridge over the Arno River), admire the spectacular Duomo Cathedral and be sure to enjoy some fine Italian cuisine before you leave the "Renaissance city". (Overnight in Florence)
Included Meals – Breakfast
DAY 5 – FLORENCE TO VENICE
Following breakfast, take a two-hour train ride to picture-postcard perfect Venice. On arrival, check in at your hotel for a two-night stay. Art lovers should venture to the Gallerie dell'Accademia, home to one of the finest art collections in Europe. Watch the world go by with a coffee in the iconic St Mark's Square before discovering attractions such as the Campanile and the Clock Tower. In the early evening, take a 30-minute gondola ride along the iconic canals. (Overnight in Venice)
Included Meals – Breakfast
DAY 6 – VENICE
Have breakfast in the morning before taking a one-hour small group tour of the Golden Basilica before heading to tour the Doges Palace. Later, stroll down the banks of the shimmering canals and discover the magnificent architecture that lines the cobbled streets and square. Come the evening, relax at an outdoor trattoria by the sparkling lagoon, or why not head to Harry's Bar to try a delectable Bellini in the cocktail's birthplace. (Overnight in Venice)
Included Meals – Breakfast
DAY 7 – END OF TOUR
After breakfast this morning, check out of your hotel and continue with your travels. If you wish to extend your vacation, perhaps with an additional day in a different city, one of our Rail Experts will be happy to assist you with the details.
Included Meals – Breakfast
---
Highlights
Discover the wonders of the 'Eternal City' of Rome and throw a coin in the Trevi Fountain
Browse the countless exquisite museums and remnants of the Renaissance in Florence
Take a gondola ride along the picturesque canals in Venice
Package also includes:
First class rail travel and seat reservations per itinerary
2 nights' hotel accommodation with breakfast in Rome
2 nights' hotel accommodation with breakfast in Florence
2 nights' hotel accommodation with breakfast in Venice
Small group tour of the Vatican Museums and the Sistine Chapel
Small group walking tour of the Colosseum and Roman Forum
Small group tour of Uffizi Gallery in Florence
Small group walking tour in Florence
Gondola ride on the canals of Venice
Small group walking tour of The Doges Palace and The Golden Basilica in Venice