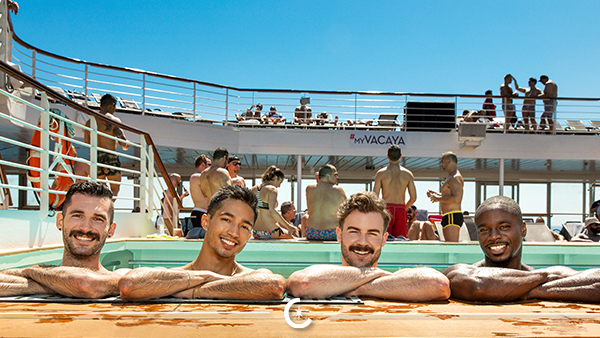 OUR FIRST WINTER ESCAPE CHARTS AN ALL-NEW COURSE FOR CARIBBEAN ADVENTURE! We're pulling out all the stops for our first big LGBT+ Caribbean Cruise! Sailing from San Juan aboard the fabulous Celebrity Summit February 13-20, 2021, this 7-night cruise to Antigua, Martinique, Saint Lucia, and Barbados is sure to be the winter escape you've been looking for! VACAYA has chartered the entire ship so LGBT+ travelers and their friends have the freedom to express their individuality, make personal connections, celebrate life, rev up, or simply relax… together. And you'll be dazzled by our star-studded onboard entertainment. AND… with THIS cruise, we're announcing a myth-busting, game-changing, value-added benefit just for clients … the ability to purchase CELEBRITY'S UNLIMITED BEVERAGE PACKAGES!
---
Speak to our travel experts. They have spent a lot of time exploring our destinations. Their first-hand knowledge is the basis for organizing your perfect trip.
---
DAY 1 | SAT, FEB 13, 2021 | SAN JUAN, PUERTO RICO | 18°N 66°W | DEPART: 8:30PM
Our journey begins in beautiful San Juan! We'll celebrate our coming together tonight in fun new ways. After all, that's what these vacations are all about – connecting with old friends and making countless new ones, all the while having endless fun. Connect. Laugh. Play.
DAY 2 | SUN, FEB 14, 2021 | A DAY OF LOVE AT SEA | HAPPY VALENTINE'S DAY!
Our first day at sea gives you the chance to soak in the Caribbean sunshine while we all celebrate Valentine's Day together! Our first V-Dance of the week will be this afternoon and you can be sure it'll give you endless ways to connect with fellow guests. Live. Love. Dance.
DAY 3 | MON, FEB 15, 2021 | ST. JOHN'S, ANTIGUA | ARRIVE: 8AM | DEPART: 5PM
Colorful St. John's is a welcoming paradise and home to 365 white sandy beaches and kitschy beach bars around every corner.
Like any tropical destination, St. John's is perfect for lounging beachside, snorkeling and diving, or hiking to see Fort Barrington's watchful eye overlooking the city. Historic sites like Fort James and St. John's Cathedral make for fantastic tours, leaving plenty of time in your day for tasty Caribbean cuisine and seafood, where the fresh catches of the day rule the local menus. Relax. Indulge. Frolic.
DAY 4 | TUE, FEB 16, 2021 | FORT-DE-FRANCE, MARTINIQUE | ARRIVE: 8AM | DEPART: 5PM
You'll quickly be swept up by Fort-de-France's energy and natural beauty, which alternates between crystal-blue waters and laid-back beaches to dense, tropical rainforest. Whether you're touring a distillery and sipping authentic local rum or hiking the lush trails of Martinique Natural Regional Park, the Fort-de-France area offers just enough to do without being overwhelmed by the options.
Feeling like doing nothing? Set up on the beach with an umbrella. Want to step back in time to French colonial occupation in the Caribbean? Walk the expertly-preserved grounds of the ruins of Chateau Dubuc. Hungry for Creole cuisine, crab cakes, or octopus stew? Martinique's foodie scene is adventurous without being too frou-frou. Whatever your mood, Martinique will rise to meet you there.
Today, we'll also be celebrating Mardi Gras! Explore. Unwind. Feast.
DAY 5 | WED, FEB 17, 2021 | CASTRIES, SAINT LUCIA | ARRIVE: 8AM | DEPART: 5PM
Saint Lucia offers a different side of the Caribbean than you've ever seen before. Castries is a walkable, bustling town. Head to Derek Walcott Square to relax after exploring the town, and don't miss the historic cathedrals in the heart of the city. Of course, you have to try traditional Saint Lucian food, including saltfish and green banana, the region's signature dish.
Saint Lucia itself is sprawling and mountainous, protected yet easily explorable. Downtown Castries will easily fill your day, but you could also venture further inland for thrills and outdoor adventures, like hiking one of the volcanic Pitons, a spire-like mountain promising incredible views of Saint Lucia from the summit. Take a mud bath at Sulphur Spring Park, or simply swim and snorkel at Pigeon Island National Park or the beautiful Reduit Beach. DISCOVER. CHILL. SHINE.
DAY 6 | THU, FEB 18, 2021 | BRIDGETOWN, BARBADOS | ARRIVE: 8AM | DEPART: 5PM
We'll dock in Bridgetown, the capital of Barbados, and an important port city in the Southern Caribbean. What's not to love about Barbados? Miles of sandy beaches, turquoise island waters, and an abundance of plantations and historic sites to tour mean you'll find plenty to occupy your time here. Be sure to try traditional Barbadian dishes like cou cou and macaroni pie, and make time to enjoy a rum tasting or distillery tour.
Be captivated by protected species like the West African green monkey at the Barbados Wildlife Reserve or head east to Bathsheba for plentiful chances to snorkel, surf, and dive. Colourful. Historic. Laid Back.
DAY 7 | FRI, FEB 19, 2021 | A DAY OF SHENANIGANS AT SEA
Our final day at sea promises to be one to remember. Soak up those last rays of sunshine, get that much-needed massage you've been putting off, or join your playmates around the pool for our final V-Dance of the week. However you choose to spend your day, you'll do it surrounded by 2000+ new friends. Savour. Soar. Enjoy.
DAY 8 | SAT, FEB 20, 2021 | SAN JUAN, PUERTO RICO | DISEMBARKATION: 6AM
We say "so long" today, but it's never goodbye for long. Another adventure lies just around the corner. We'll see you again soon! If you're flying out from SJU today, we recommend flights at 12pm Noon or later.
---
Celebrity Summit will serve as our home-away-from-home for 8 glorious days. And it's amazing what's included:
All-star VACAYA entertainment
Endless Celebrity and VACAYA social activities
Warm friendly parties with music you love and can even sing along to!
VACAYA ReachOUT Philanthropic Service Opportunities
Ocean transportation
Shipboard accommodations
Twice daily stateroom service
Flat screen interactive TVs with special VACAYA programming
Personalized service of one Celebrity staff member for nearly every two guests
Meals (Fine Dining Restaurants are an extra charge)
Many beverages
24-hour room service
Fitness center
In addition, each stateroom and suite on Celebrity Summit includes the following world-class value-added amenities that all contribute to your modern luxury experience:
Service
Celebrity's signature friendly, personalized service with a guest-to-staff ratio of nearly 2:1
Twice daily service (makeup and turndown)
Daily ice service in stainless steel ice buckets
Dining
24-hour complimentary room service
Amenities
Robe
Complimentary tote bag
Custom blended bath products (shampoo, conditioner and lotion), shower cap, cotton balls, and cotton swabs
Celebrity eXhale™ bedding featuring custom premium mattresses, plush duvets and pillows, and 100% pure Egyptian cotton linens
Hair dryer
Stateroom Features
Private mini-bar*
Interactive flat-screen television system to view special Vacaya programming, and to select shore excursions, order room service, and watch movies*
Private safe
Dual voltage 110/220AC outlets
*Additional charges apply.