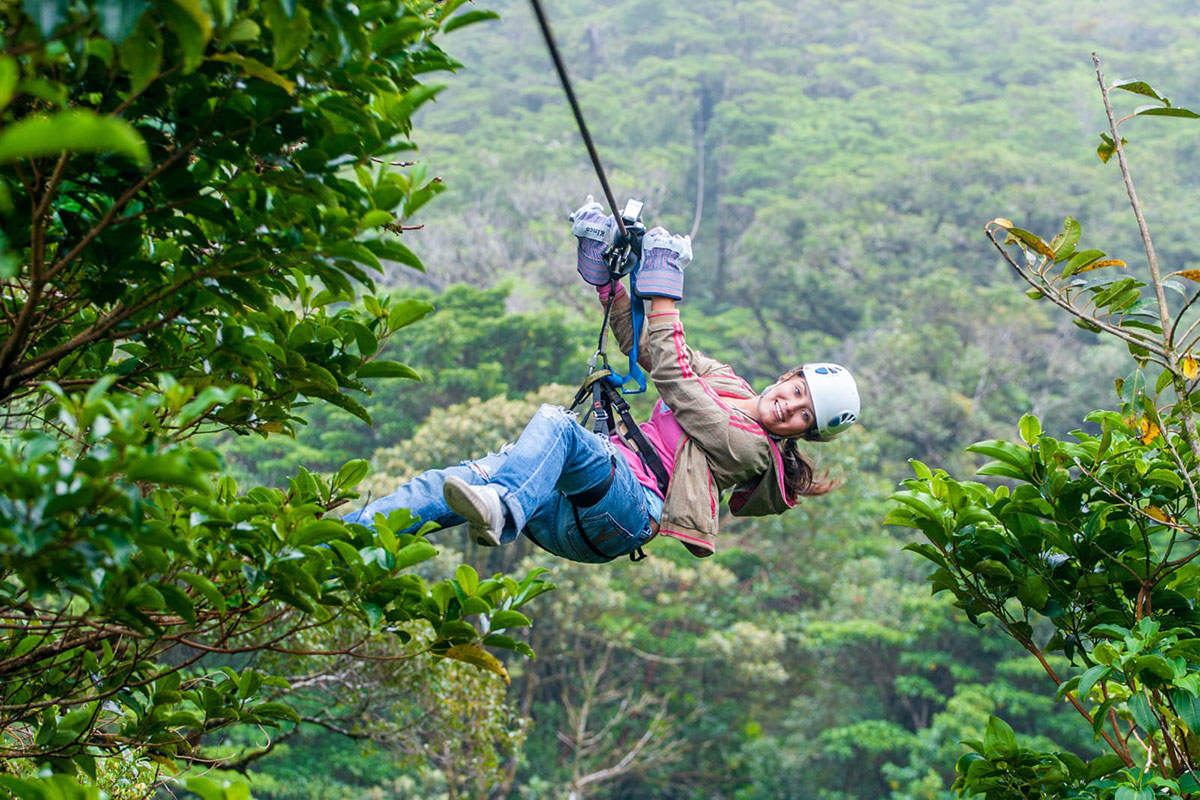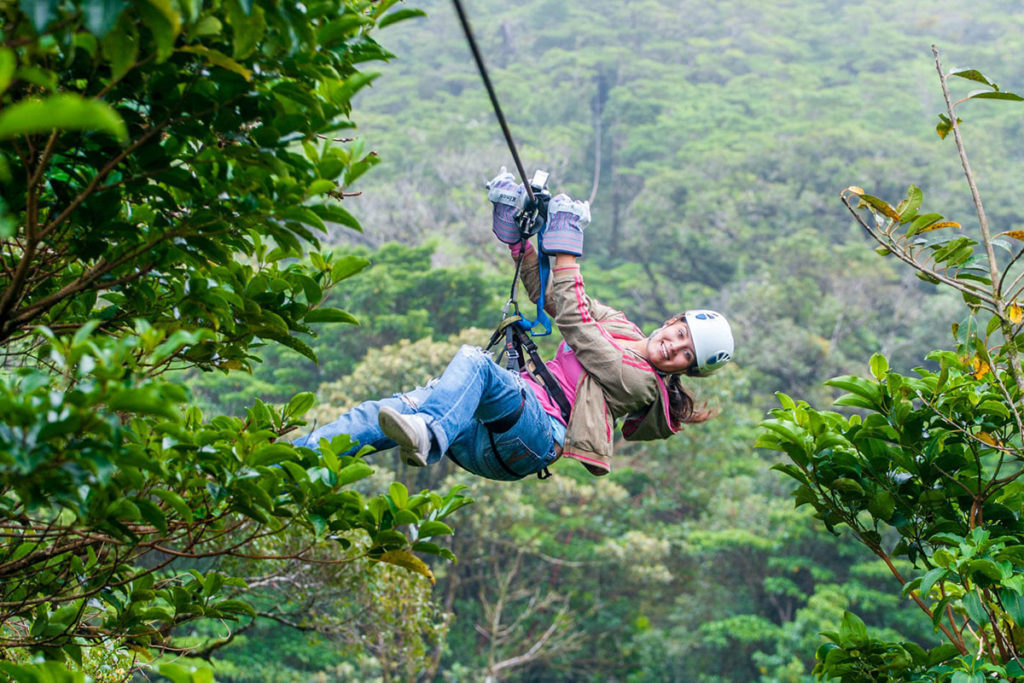 From waterfalls, to volcanoes, rain forests and beautiful cities, Costa Rica has a little bit of something for everyone. This is the perfect getaway for adventure seekers and nature lovers, and those looking to explore a new culture.
---
Speak to our travel experts. They have spent a lot of time exploring our destinations. Their first-hand knowledge is the basis for organizing your perfect trip.
---
Day 1 Central Valley
San Jose is Costa Rica's capital and home to a quarter of its population. A city tour provides a cultural experience for tourists who want to see the Costa Rican lifestyle. Other travellers may prefer to use San Jose as a base for taking day trips to other regions of the country. Popular attractions near the city include the Poas and Irazú Volcanoes, white water rafting, the La Paz Waterfall Gardens, Orosi and Cartago (home of the country's largest Catholic church), and the renowned Rainforest Aerial Tram at the Braulio Carrillo National Park.
San Jose is also home to the country's top restaurants and some of its best entertainment. The downtown area offers interesting sights, such as the National Museum, Children's Museum, Gold Museum, Jade Museum, National Theatre, Melico Salazar Theatre, parks, plazas, and the Central Avenue walking boulevard.
Typically, guests arriving on evening flights and/or departing on early morning flights choose to stay in San Jose for their first and/or last nights. Many visitors choose to stay an extra night or two to enjoy the sights near the city, take a white-water rafting trip or experience the city's cultural and social life.
Private Transfer San Jose (SJO) Intl. Airport – San Jose Hotel. Arrive at the San Jose International Airport. Upon clearing immigration and customs, exit the airport and meet your driver who will be waiting for you. Board the van for the 20-minute drive to San Jose.
Optional Activities in San Jose/Surroundings
• San Jose City Tour: This tour immerses you in the rich Costa Rican culture and history by experiencing the beautiful museums and historical sites of San Jose. We will take a walking tour through the historic National Theater. Afterwards you will visit one of the many unique museums of Costa Rica. You will continue heading to the University of Costa Rica, the Supreme Court and various sites of interest. A brief stop will be made in a beautiful art craft shopping store allowing you to browse through it before returning to your hotel and buy some souvenirs.
• 3-in-Tour: Enjoy this spectacular adventure with your family or friends. This tour includes boat ride on the Sarapiqui River, walking and rain Forest Aerial Tram Tour.
• Canopy: Enjoying safely through a series of cable systems that move through a big extension of a virgin forest, it motivates us throughout the tour to enjoy about the flora and fauna of this majestic environment.
• Adventure Combo (Canopy + Horseback Riding): You will enjoy two adventurous attractions: The Canopy Tour in the middle of a secondary forest with trees of high altitude and after the horseback riding.
• Doka Coffee Tour: Visiting the largest coffee plantation in Costa Rica will allow you to learn everything about the process related to cultivation processing and good practices, as well as your natural and cultural environment.
• La Paz Waterfall Gardens: It is the #1 Most Visited Privately Owned Ecological Attraction in Costa Rica featuring the best hiking near San José, the most famous waterfalls in Costa Rica, animal sanctuary with over 100 species of animals, and an environmental education program.
• Irazu Volcano: Climb this volcano and see the Orosi Valley. Take a trip east, past the city of Cartago, to the Irazu Volcano, one of the country's highest peaks. Additionally, tours visit the Orosi valley, a fertile landscape with scenic views and interesting towns.
• Grano de Oro Hotel. Situated on a tree-lined street just off Paseo Colon, Grano de Oro is a true oasis, a sanctuary in the heart of a bustling city. Converted from a Tropical Victorian mansion, the hotel maintains the warmth and comfort of a private home. The charming atrium terrace and corridors have sparkling fountains and lush tropical plants while the rooftop deck offers soothing Jacuzzis and a spot for secluded sunbathing. Restaurante Grano de Oro is one of San Jose's finest, offering continental cuisine in a warm and intimate atmosphere. Service is paramount at Grano de Oro, a member of Small Distinctive Hotels Costa Rica.
---
Day 2 Pacuare
Rios Tropicales Lodge: At Rios Tropicales Lodge you can relax, explore and enjoy all that Costa Rica offers on our 2,000-acre private reserve at the mouth of the Pacuare Gorge. We have more than 40 miles of hiking trails and numerous waterfalls, streams and pools. Our open-air dining pavilion and lounge let you watch the local wildlife and listen to the sounds only found in a tropical paradise.
Pacuare Package 1 Night – Deluxe Room
You will be picked up in the lobby of your hotel to start the 3-hour drive to the Pacuare River. Stop for a traditional Costa Rican breakfast at the Operations Center before arriving at the river, where your friendly, professional guides will load your gear into dry bags, prepare the equipment and give you complete safety and paddle instructions. The first day's Class III rapids welcome you to the Pacuare gorge's charm as you raft deep into the heart of primary rainforest. While your guides prepare you a hearty picnic lunch on the riverbank, you will be led through the jungle to an enchanting waterfall and pool for a swim. After lunch, continue down the river to the award-winning Lodge, nestled in the jungle on a 1,000-acre private reserve. Spend the afternoon relaxing, hiking or soaking in the waterfall and pools in preparation for happy hour followed by a delicious candlelight dinner with wine served by your guides. Deluxe room with private bathroom, hot showers, electricity, and decks for scenic views.
Package includes: Transportation from San Jose, bilingual guide, typical Costa Rican breakfast in route, Pacuare River rafting tour, professional guides and equipment, all meals, lunch along the river, use of private installations at river take-out, return transportation to San Jose with guide or by shuttle transfer to your next destination (Arenal or Cahuita/Puerto Viejo).

Note: Luggage is limited to 25 pounds per person. If only travel one person takes the transfer to Arenal or South Caribbean there is an extra cost.
---
Day 3 Pacuare River
After a hearty breakfast, you will paddle down the Pacuare Gorge past gushing waterfalls, serene pools and pounding rapids. Stop by the riverside for a snack and to explore more waterfalls and natural waterslides. An adrenaline-packed afternoon running rapids like Upper and Lower Huacas, Cimarron, Dos Montañas, and many more will keep your blood pounding. Return to the Operations Center for a hot lunch. Showers, changing rooms, drinks, and snacks are also available. On the drive back to San José, enjoy remarkable views of Braulio Carrillo National Park and Irazú Volcano.
Nestled within the flat, rich lands of San Carlos, the Arenal Volcano rises from the rainforest like a natural monument. One of many remarkable sights in the area, this mountain of fire symbolizes the adventure and mysticism of the region.
Known as the adventure capital of Costa Rica, the Arenal Volcano/Fortuna area offers numerous activities, ranging from highly charged white-water rafting, canyoning and caving to more leisurely hikes through the rainforest and soothing swims in hot springs. The region's attractions include the Arenal National Park, the Fortuna River Waterfall, the Caño Negro Wildlife Reserve, and numerous adventure tours in the Rainforest.
With its rolling hills, cattle farms, rainforest, and Costa Rica's largest lake, the Arenal area's verdant landscape is a cornucopia of biodiversity.
• Private Transfer Santa Marta (Siquirres) – Arenal. Check out of the hotel and board the van for the 3-hour transfer to the Arenal Volcano Region. This drive will take you through the Sarapiqui rainforest region to San Carlos. This area is one of the country's most productive regions, with forest and wood industries, cattle ranches and agriculture. It is the country's top region for growing oranges, yucca and other root vegetables. Arrive in the region and check into your hotel.
Arenal Manoa Hotel is a beautiful place to rest, relax and enjoy the marvelous view of the Arenal Volcano in Costa Rica. Surrounded by gardens, pastures and animals in addition to two springs pools, our 96 Jr. Suites and 6 Premium Suites have been designed so that each one offers you a panoramic view of the volcano. Our visitors can take advantage of our spacious gardens for walking and meditation as well as the opportunities to see the daily operations of a typical Costa Rican farm
---
Day 4 La Fortuna Waterfall Tour by Car
You will be picked up in the hotel lobby for your La Fortuna Waterfall. You will arrive at the upper part of the falls, from here you will contemplate the 230-foot waterfalls. Then, you will begin your hike down into a beautiful trail a hanging bridge, with handrails through a wonderful rain forest until you reach the cascading pool. Here you might consider going swimming into these cold waters or rest on the several rock outcroppings found along the riverbanks. While relaxing yourselves in this place, you are welcomed to enjoy the surrounding tropical rain forest which provides a breathtaking natural setting with the majestic waterfalls on the background.
Includes: Transportation, bilingual guide and entrance fee.
What to bring: Wear comfortable clothing and hiking boots. Don't forget binoculars, camera with plenty of film and insect repellent, swing suit.
Optional Activities in Arenal/Arenal Lake
• Relax at the country's top hot springs resorts featuring breath-taking volcano views and lush tropical gardens. Some of Costa Rica's top spas and therapists make Arenal their home. (The hot springs are included for those staying at Tabacon Grand Spa Thermal Resort,The Springs Resort & Spa or Arenal Kioro)
• Go rafting on the Sarapiqui River. The river has Class II, III and IV rafting for adventure aficionados and Floating Safari Class I & II rafting for slower paced, nature lovers. Both are excellent tours featuring amazing scenery, interesting wildlife and thrilling adventure.
• Try canyoning, one of the country's top adventure activities. Rappel down four walls, including three waterfalls, inside the rainforest – truly an unforgettable experience!
• For nature and kayaking lovers, the Arenal Lake offers the opportunity to experience a memorable kayaking outing with the possibility to spot interesting wildlife in their natural habitat.
• Tour the forest from the Hanging Bridges Tour. This is an impressive hike in the rainforest over a series of suspension bridges. View various types of flora and fauna at differing heights – from the ground to well above the canopy. What a way to see the jungle! If you plan to enjoy the sky trek, make it a full day and add the hike in the sky walk suspended bridges.
• Experience the thrill of zip lining through the canopy of the rainforest on the Sky Trek or the Ecoglide with Tarzan Swing, two of Costa Rica's most popular tours. Enjoy the rain forest from this unique vantage point and a get a real adrenaline rush!
• Take a Volcano Hike in the Arenal National Park where you will learn all about the Arenal Volcano and its history.
• Extreme adventure fans will thrive during a visit to the Venado Caves. Spend 1½ to 2 hours on a guided visit, climbing walls, sliding through mud-holes, hiking in underground rivers, and exploring these unique caves. Your clothes are likely to be ruined, but the adventure makes it worth it.
• Mountain bike on an old dirt road and take in view of the volcano, lake Arenal, and rainforest. Beginner, intermediate and advanced options available.
• Enjoy a "Floating Safari" tour through the Caño Negro Wildlife Refuge. This area is considered to be of the best sites on the continent for bird watching; Caño Negro is also home to a number of other animals such as sloths, three types of monkeys, caimans, lizards, bats, and a myriad variety of flora native to the wetlands.
• Asis Project: Take part of this wonderful educational experience, learn and see Costa Rican wildlife up-close.
---
Day 5 Monteverde
The rare phenomenon where climate conditions cause cloud and mist to be in regular contact with the vegetation is called a cloud forest. Few exist in the world, and Monteverde is one of the few destinations where cloud forests are easily accessible. This magical environment enchants visitors, enticing them to fall in love with nature.
Spending one or two nights in Monteverde is a memorable part of a Costa Rican vacation. Nature lovers visit this secluded part of the country in search of exciting trails in the Cloud Forest, adventurous canopy rides, and relaxing evenings in the cool, crisp climate. Cozy mountain lodges also provide the perfect setting for romance.
In addition to canopy rides, Monteverde offers many attractions and activities, among them, the Sky Walk/Sky Trek, butterfly farms, orchid gardens, day and night nature hikes, a cheese factory, and horseback riding. We recommend a minimum one-night stay with at least two full days to enjoy the region. Day trips are also offered from Arenal and Guanacaste.
Shuttle Transfer Shared Lake Crossing Arenal – Monteverde (Car-Boat-Car). The driver will pick you up for the adventurous journey to Monteverde. After a 15-minute transfer to the lake shores, you will embark on a 30-minute boat ride across Arenal Lake followed by a 2 hour drive up the picturesque mountains. This challenging road will take you from an altitude of 900 meters above sea level to the Cloud Forest at 1440 meters. Marvel at the changes in vegetation and climate as you ascend to Monteverde. Arrive and check into your hotel.
Aguti Lodge & Reserve is located just 5 minutes away from the centre of Monteverde, and adjacent to the Aguti Reserve. It has spacious rooms in five categories, beautiful views of the Nicoya Gulf from the Junior Suite and Family Suite. From the Bar and Restaurant area, you can enjoy spectacular sunsets. Clients have access to 4 kilometres of self-guided trails and the bungalows are finely located within the forest. The Hotel and Reserve are focused in the conservation and sustainability of our natural resources.
The restaurant maintains standards of social responsibility that allow us to bring to your palate products of very high quality craftsmanship. Aguti Lodge is committed to buy only local producers who, in turn, work in a sustainable way to preserve natural resources, this includes responsible fishing.
The Aguti Reserve currently develops several conservation and research projects, such as the reforestation of our endemic tree (Ocotea monteverdensis), which at this moment is in danger of extinction and its fruit is preferred by birds such as the bell bird and the quetzal.
---
Day 6 Sky Tram, Sky Trek & Sky Walk
The Sky Adventure staff will pick you up in the lobby for the transfer to the Sky Trek Park. You will begin with a guided hike of the Sky Walk, which is a hanging bridges tour over the cloud forest. Following a short break, you will review the safety instructions and receive the required gear, board a tram for 30-minute ride on the cableway, where you will have another perspective of the flora and fauna. The Sky tram ends on a wide observation platform, here you will begin the zip lining tour where you will glide from platform to platform through the canopy of the world famous Monteverde Cloud Forest. Upon conclusion, return to the hotel to spend the rest of the day at your leisure.
Includes: Entrance fee, guide and equipment.
What to bring: Long pants or shorts, T-shirts, hiking shoes or sneakers & insect repellent.
Optional Activities in Monteverde
• Hiking: The Monteverde Cloud Forest Reserve will astound visitors with its beauty, bounty and great amount biodiversity.
• Sky Adventure Park: It is a unique system of trails, suspension bridges and zip lines that allows visitors to observe the rainforest from a variety of different vantage points – from above, below and within the canopy itself.
• Santa Elena Reserve Tour: The Santa Elena Cloud Forest is a wonderland of green lushness. Giant tree ferns, bamboo and palm trees grow abundantly in the under story, while thick moss-covered liana vines dangle from the canopy.
• Frog Pound: Visitors can admire more than 25 species of native frogs, toads and other amphibians living in large, naturally simulated terrariums.
• The Butterfly Garden: The biodiversity centre displays insects and arachnids that are local to Monteverde, many of which are still alive. This allows visitors to have an up-close and personal experience with the creatures as they learn about their breeding and feeding habits. There is a live bug cam, as well as a case for viewing the butterflies as they emerge from their chrysalides.
• Monteverde Orchid Garden: It is a place where you will discover a collection of more than 460 species of orchids, which throughout the year we always have an average of 120 plants in bloom per day.
• Horseback Riding: Come and enjoy a ride among forest, open fields, coffee and banana crops, see fauna and flora that is specific to the Monteverde area.
• Don Juan Coffee Tour: It offers an interesting opportunity to learn about coffee and Costa Rican folklore. During the coffee tour, participants will learn about the history, cultivation, and operation of a functioning coffee 'beneficio'.
• El Trapiche Tour: The tour begins with a short walk through the farm where you can get a glimpse of plantations as sugar cane, coffee, bananas, plantains, tubers, oranges and more. Enjoy the entire coffee process, ride a Costa Rican ox cart and experience the process of making liquor out of the sugar cane, and to finish delight yourself with a fragrant cup of coffee.
---
Day 7 Manuel Antonio
Manuel Antonio is the most popular destination in Costa Rica, yet the government has been able to keep this famous national park unspoiled. Here you can find almost any type of adventure activity and tour, including sport fishing, sea kayaking, Catamaran cruises, white water rafting, canopy tours, nature hikes, horseback riding, and surfing.
Easily accessible from San Jose by inexpensive commercial flights or car, the Central Pacific is a wonderful destination for both families and couples.
Private Transfer Monteverde – Manuel Antonio. Check out of the hotel and board your private van for the 4 hour transfer to Manuel Antonio. This picturesque, winding road brings you down from Monteverde to the Interamerican Road, driving parallel to the Pacific Ocean, past Puntarenas and Caldera. Continue along the Central Pacific through the towns of Jaco, Esterillos and Parrita en route to Quepos, a fishing town near Manuel Antonio. Arrive and check into your booked hotel.
Si Como No Resort & Spa. Proudly occupying the most idyllic hilltop in Manuel Antonio, this award-winning eco-designed Resort & Spa provides its own signature version of "barefoot luxury" to all its guests. Featuring its own Wildlife Nature Exhibits adjacent to the property, Si Como No is a unique blend of the country's incredible biodiversity and the deeply rooted cultural values of the Costa Rican people. "Yes" is the word you'll hear over and over as the warm, engaging staff delights in honouring your every request. Si Como No is a member of the Green Hotels of Costa Rica and has been awarded five leaves (out of five) in the Sustainable Tourism Program of the CR government (CST).
---
Day 8 Manuel Antonio
Day at leisure to enjoy the hotel and its surroundings as well as the beach and the warm waters of the Pacific Coast.
---
Day 9 Manuel Antonio National Park
Regular Half Day Manuel Antonio National Park Guided Hike. Enjoy this guided tour through one of the jewels of the Costa Rica National Park System. Spot three species of monkeys, sloth's, iguanas, coatimundis, and a wide range of birds and reptiles. After the tour, stay in the park and relax on the pristine beaches or return to the hotel. If you think you may want to remain in the park until closing, we recommend coordinating a box lunch and bottled drinks with the hotel since there are no services inside the park. Also, remember to bring your bathing suit and a towel. Board the shuttle back to the hotel at 4 PM when the park closes. Otherwise, you can return to the hotel upon the tour's conclusion.
Includes: Transportation, entrance fee, bilingual guide and water.
What to bring: Binoculars, camera, and insect repellant.
Optional Activities in Manuel Antonio
• Manuel Antonio National Park: Enjoy this guided tour through one of the jewels of the Costa Rica National Park System. Spot three species of monkeys, sloth's, iguanas, coatimundis, and a wide range of birds and reptiles.
• Canopy Tour: The canopy tour has over 3.6 kilometers of total zip line length on 10 lines, 14 tree platforms, 3 nature walks, 6 hanging bridges, a rappel secured by a top and bottom belay and air stairs. Mountain, jungle, canopy, and ocean views.
• Damas Island Mangrove Boat Tour: Rest assured knowing that the boats are eco-friendly and designed for your security and comfort. Once aboard, your naturalist guide will describe a variety of biological relationships between many organisms in this delicate habitat. You'll see animals such as white-faced monkeys, herons, snakes, crocodiles and iguanas.
• Santa Juana rural mountain adventure tour: There is no experience quite like the combination of the "magic of nature" and Costa Rica's authentic rural heritage.You'll hike along lush jungle-shrouded slopes where three rivers are born, then swim in one of the regions most pristine natural pool beneath a mesmerizing waterfall, spot all kinds of fascinating wildlife, fish for tilapia, and visit an authentic sugar mill powered by massive oxen.
• Carara Nat. Park & Bird watching: Enjoy a relaxing walk for a few hours through the rainforest with the certified guides and naturalists. In the Carara National Park, you can enjoy the unforgettable and beautiful Red Macaws and the extraordinary crocodiles that live in the ecosystem of the Tárcoles river estuary next to the Carara National Park. This excursion of hiking and adventure natural sanctuary, in a reserve with great biodiversity and unique in Costa Rica. The first National Park with natural trails.
• Naranjo river rafting: This wild and ever-changing Naranjo River White Water Rafting challenge is recommended for physically fit adventure seekers. Enjoy the ride! This is a high-octane, half-day adventure on the Naranjo River which drops steeply from the Costa Rican mountains, leads through pristine jungle gorges, followed by winds around rocky curves to take you on a wild, adventurous ride back to sea level waters.
• The Savegre rafting: It´s an easy drive and your guides will turn it into an extremely informative ride. Along the way, you'll see part of Quepos´ history such as the little towns called "Cuadrantes", cultural and architectural inheritance of the United Fruit Company presence in our area.
• Catamaran Tour: Enjoy an outstanding naturalist tour with amazing views of the Manuel Antonio National Park. The morning visit includes a snorkeling adventure in a beautiful and secluded bay known as Playa Bizans. The afternoon tour is a truly amazing trip for nature lovers who can enjoy not only the whole experience but also the breathtaking sunset out on the Pacific Ocean. Get to experience humpback whales, dolphins and the beautiful marine wildlife.
• Ocean Kayaking & Snorkeling Tour: The adventure begins near the developing Pez Vela (Sail Fish) Marina in Quepos and winds along the Manuel Antonio coastline. Indulge yourselves at a rare jewel of a beach a hidden Manuel Antonio treasure at Biezans Bay for a refreshing swim and delicious local snacks.
• Bird watching tour: Here you will have the possibility to admire birds like the Black-Mandible Toucan, White-Throated Shrike-Tanager and Short-Tailed Hawk. Tanagers, hummingbirds, birds of prey, seedeaters, thrushes, doves, trogons and many more species live in this area, where our guides and customers have identified more than 60 species.
• The Spice Plantation Tour: It is a half day tour and is available in the morning or afternoon. You will experience the sights, tastes, and aromas of vanilla, cinnamon, pepper and other tropical spices, essential oil plants, and a wide variety of tropical ornamental plants.
• Horseback Riding Tocori Waterfalls: Learn about exotic and medicinal plants as you discover the secrets of the rainforest. If you like, take a refreshing dip in pristine natural mountain waters while being splashed on by two stunning waterfalls at Tocori.
• The jungle night walk: Experience the magic of the most exotic nocturnal creatures on the Jungle Night Walk at the wildlife refuge of Si Como No.The Jungle Night Walk is a unique odyssey into the nocturnal world of the tropical rain forest. Visit the amphibian water gardens and listen to the nightlife of over a dozen species of frogs.
---
Day 10 Flight Quepos – San Jose
The driver will pick you up in the hotel lobby to transfer you to the local airport. Check in to the 30-minute flight departing for San Jose. Note that there is a 30lb luggage + 10lb carry on weight limit per person with Sansa Airlines and that the Quepos Airstrip charges a facility fee of $5. Arrive at the San Jose International Airport in time to check in to your return flight home.