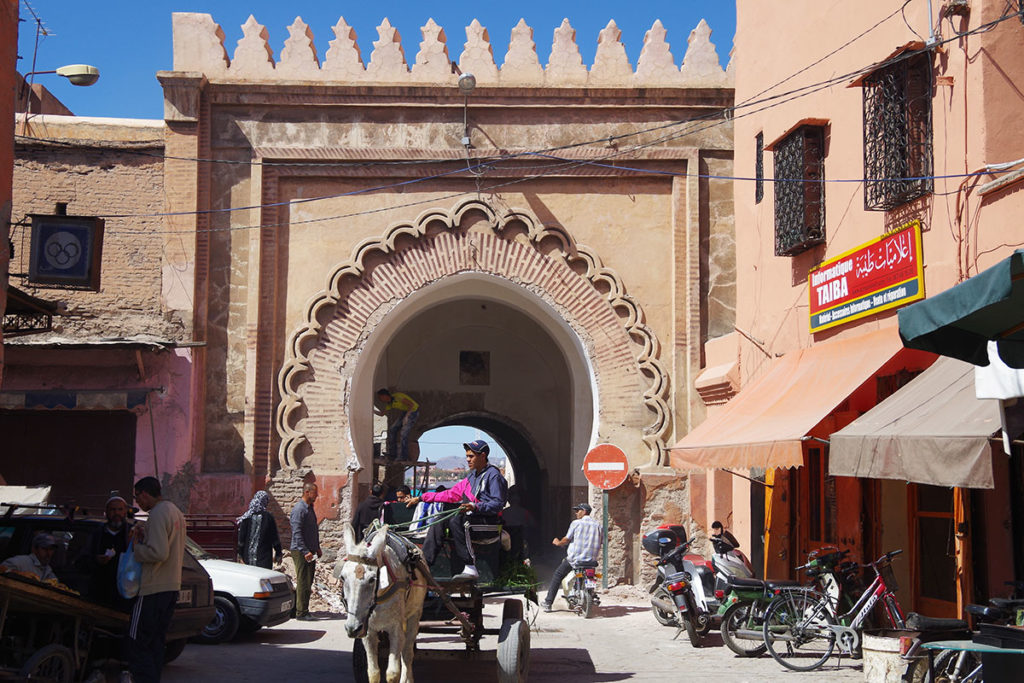 The Red City! Come alive in iconic and exotic Marrakech – where Morocco's heart beats a little faster! History and culture follow your every step, whether you're visiting placid gardens or the hottest nightclub! In five days, you'll get to know the highlights of the medina and Ville Nouvelle, the luxury of the hammam and opulence of Moroccan cuisine. Bonus day excursions: discover mountain landscapes, desert villages and the Atlantic coast as well.
---
Speak to our travel experts. They have spent a lot of time exploring our destinations. Their first-hand knowledge is the basis for organizing your perfect trip.
---
DAY 1: Arrival: Casablanca OR Marrakech
WELCOME to the Red City! We'll greet you at your airport of arrival. If you arrive in Casablanca, we will transport you to Marrakech and your accommodations. If you arrive in Marrakech, we will greet you at the airport and take you to your accommodations. We'll let you settle in, relax, discover the amenities of your riad. Enjoy dinner at your riad this evening as well.
DAY 2: Marrakech
Enjoy a leisurely Moroccan breakfast, and visit Majorelle Gardens this morning. Then take a half-day guided walking tour of the Marrakech medina. You'll visit the major sights of this Imperial City including the Bahia Palace, Koutoubia Mosque, the Jewish Mellah, Ali Ben Youssef Medersa, Marrakech Museum, El Badi Palace, and Saadian Tombs. Along the way, you'll discover the colorful souks, the olive market, the dyers' quarter, and the tanneries. Complete the day with a visit to Djemaa el Fna Square for dinner this evening.
DAY 3: Marrakech
Have a free day to explore Marrakech on your own. We'll support you with local transportation as you like, so you can explore the Ville Nouvelle (new city) as well. Options: you can attend a half-day cooking class, or enjoy a traditional hammam. Tonight, you'll have dinner at one of Marrakech's fabulous restaurants in the Ville Nouvelle.
DAY 4: Essaouira
Today you will discover a very different Morocco: you'll visit Essaouira on the Atlantic coast. The road will take you through olive and argan country. (Watch for goats in the argan trees!) En route, we'll stop at a Women's Co-operative where culinary and cosmetic argan products are made. Enjoy lunch at Domaine du Val d'Argan. (Wine-tasting available.) Spend the afternoon strolling through Essaouira's lovely blue-and-white medina, the harbor area, and the artisanal tradescraft shops. Look for the marquetry workshops in particular. We'll stay long enough to enjoy dinner at one of the city's excellent seafood restaurants, then return to Marrakech.
DAY 5: Agafay Desert
Discover another facet of magical Morocco today, as you take a day-trip to the Agafay Desert. Just 30 km from Marrakech, you'll find yourself in another world! Enjoy a camel ride (optional), and have lunch with a Berber family in one of the desert villages. Return to Marrakech through the beautiful Atlas Mountains! Option: overnight at a mountain lodge if you have a late-afternoon or evening departure on Day 6.
DAY 6: DEPARTURE: Casablanca or Marrakech
We'll transport you to the airport from your accommodations in time for your departure. If you have a morning or early afternoon departure from Casablanca , we'll arrange your return to Casablanca on Day 5 and arrange your final night's accommodations there as well.