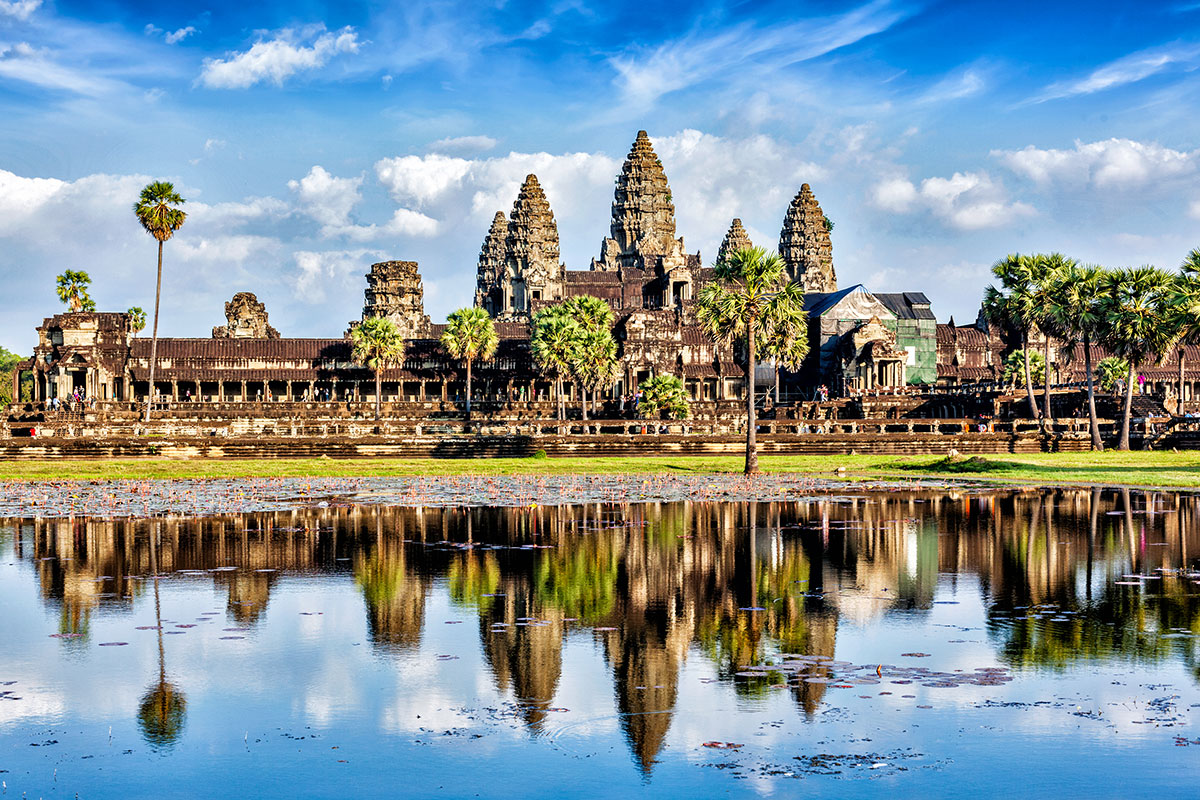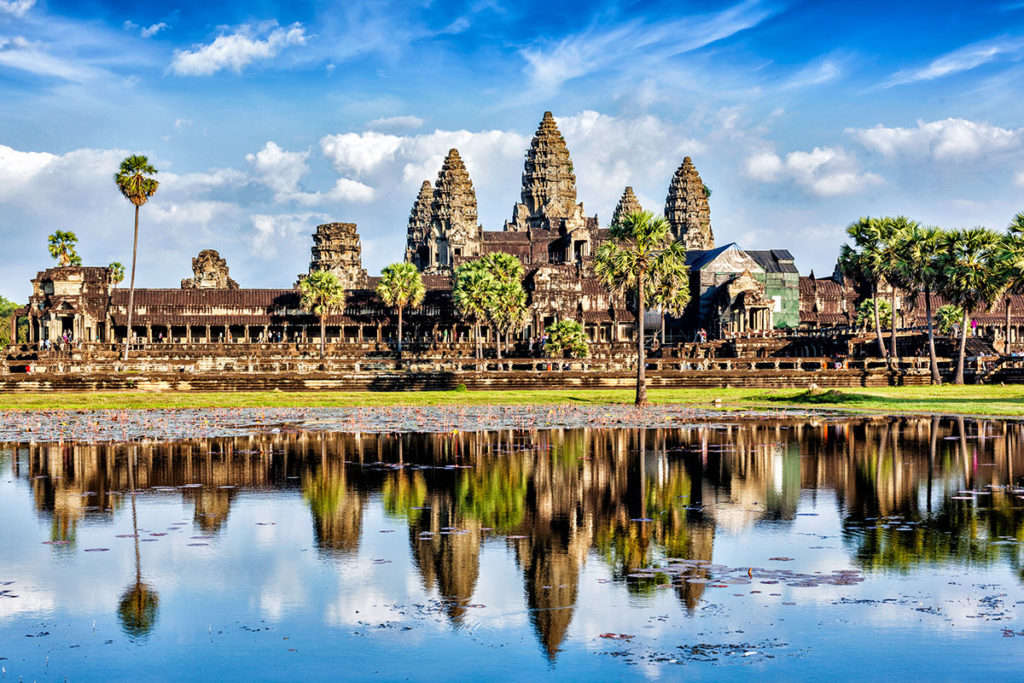 SEP 21 – OCT 3, 2023
We invite you to join a 13-day, LGBT+, all-inclusive, guaranteed full ship charter, featuring the mighty Mekong River and the Temples of Angkor Wat.
There can be no more striking cultural contrast than tranquil Cambodia and bustling Vietnam. From the diverse countryside of Cambodia to the Mekong Delta, so rich in human life and endeavor, you'll discover two countries, two cultures, and two ways of life linked by one river, the Mekong. Cruise aboard the all-suite, luxurious Mekong Jewel, specially built to ply the Mekong River from Kampong Cham, Cambodia to Ho Chi Minh City. Embracing an elegant French-colonial design similar to the many homes that once lined the streets of old Saigon, she boasts spacious suites from 323 square feet up to an expansive 915 square feet in size. From here, you will enjoy all the wonders the Mekong has to offer in sophisticated, yet comfortable style. With never more than 24 guests per expert guide, you will enjoy enriching lectures, a comprehensive series of well-planned excursions, and most meals and beverages! Also included is a three-night stay in Siem Reap including an in-depth visit to the UNESCO World Heritage site of Angkor Wat, and a two-night stay in bustling Ho Chi Minh City (formerly Saigon), each featuring five-star, centrally-located hotels.
---
---
Day 1: Siem Reap – SEPTEMBER 21, 2023
Arrive at the Siem Reap airport, where you will be greeted by a Brand g representative, who will transfer you to the elegant and serene Victoria Angkor Resort and Spa. There will be an informal meet and greet around 5:30 for those who have arrived.
Day 2: Siem Reap – SEPTEMBER 22, 2023
You'll begin your day at Angkor Wat, the most recognizable landmark in Cambodia, and the largest religious monument in the world, with the longest continuous bas-relief sculpture in existence. Enjoy lunch at a local Khmer restaurant. This afternoon, tour the city center of Siem Reap by tuk tuk (motorcycle rickshaw) for an introduction to Siem Reap's many dining and shopping options, and a stop at a traditional artists' workshop. This evening, guests will enjoy a private dinner with Apsara show at our hotel. (B/L/D)
Day 3: Siem Reap – SEPTEMBER 23, 2023
This morning, we enter through the south gate of Angkor Thom for a guided tour of Bayon (the temple with the faces), then walk around the back of Bauphoun, and along the Terrace of the Elephants and the Terrace of the Leper King. We continue to visit Ta Prohm, which has been overtaken by the jungle, with tentacle-like tree roots spilling over centuries-old walls and roofs, enveloping much of the structure. Then enjoy lunch in a local restaurant. This afternoon, you'll visit Banteay Srey, considered to be the pinnacle of artistic achievement at Angkor, and Banteay Samré. Enjoy this evening at your own leisure. (B/L)
Day 4: Siem Reap / Kampong Cham / Embarkation – SEPTEMBER 24 , 2023
This morning is yours to relax and enjoy the hotel property or do some last minute shopping. This afternoon we travel to Kampong Cham, with lunch enroute, to embark the ship. Following the informative Welcome BrieZng, and meeting with our friendly crew, a Cambodian themed dinner is served in the Topaz Dining Room. (B/L/Welcome Dinner)
Day 5: Wat Hanchey / Angkor Ban / Pnhom Penh – SEPTEMBER 25, 2023
This morning, you walk up the hill to the local monastery of *Wat Hanchey and receive a traditional Buddhist Water Blessing from the resident monks. After enjoying a walk around the monastery and the amazing views of the Mekong River valley, you descend 303 steps and return to the ship. *For gentle walkers, there is a coach provided to bring you up the hill. In the afternoon, we will visit the charming town of Angkor Ban. Here, you will have a glimpse into the lives of the local people, starting with a visit to a family's home to see how the locals live, along with an opportunity to meet the family and discuss their lifestyle. Next, you will continue through the village to the local private school, where you will join the children in their classroom and experience what their typical school day is like. You will then walk back through the village to the ship, with an opportunity to take photos along the way, including a brief stop at the local monastery complex. Late this evening we arrive and dock in Phnom Penh. (B/L/D)
Day 6: Phnom Penh – SEPTEMBER 26, 2023
After breakfast on board this morning, meet your cyclo/Tuk Tuk driver for an exciting morning city tour of Phnom Penh. You are gently transported by your driver along the riverfront to the Royal Palace complex. Here, enjoy a leisurely walk through the grounds, viewing Throne Hall and Moonlight Pavilion, before visiting the famous Silver Pagoda, home of Cambodia's Emerald Buddha and Maitreya Buddha, encrusted with more than 9,000 diamonds. Return to your Cyclo for the short ride to the National Museum, ending the morning with a comprehensive tour of the many Angkorian-period artifacts excavated at the Angkor Temple complex at Siem Reap. Enjoy a free afternoon in Phnom Penh with a variety of optional excursions from which to choose, or simply enjoy your time independently shopping or dining at one of the many wonderful restaurants and pubs nearby. (B/L/D)
Day 7: Phnom Penh – SEPTEMBER 27, 2023
This morning, learn more about the darkest days of Cambodian history. After a scenic 45-minute drive from the ship, you arrive at the Choeung Ek killing Zelds, where you may walk through the Zelds, visit the small museum and Memorial Stupa, and learn more about the atrocities committed during the Khmer Rouge regime. Before returning to the ship, tour Tuol Sleng (also known as S-21), the former school converted to the main prison and torture headquarters of the Khmer Rouge. After returning to the ship, enjoy a free afternoon in Phnom Penh – shopping, dining at one of the many wonderful restaurants, participating in an optional cooking class, or exploring the city independently. This evening after dinner we'll have an optional excursion visiting the local gay bars of Phnom Pehn. (B/L/D)
Day 8: Phnom Penh / Border Crossing / Long Khanh Island – SEPTEMBER 28, 2023
This morning, we depart Phnom Penh to sail downstream to the Cambodia/Vietnam border. Enjoy a leisurely cruise, taking in the sights along the Mekong River. Some activities will be offered on board, as well. Late this afternoon, we undergo border formalities, then cruise to Long Khanh Island. (B/L/D)
Day 9: Long Khanh Island / Cu Lao Gieng – SEPTEMBER 29, 2023
This morning, sampans take you to the local island village of Hong Ngu. Hong Ngu produces a large number of the traditional, Khmer scarves exported to Cambodia. Created in many homes around the village, you will have the opportunity to see the weaving process. Some villagers are also embroidery artists, displaying their art in and around the homes. The inhabitants of this area are especially friendly and welcoming. Before returning to the sampans, we will walk around this evergreen island and visit the home of a local War Veteran. In the afternoon, your sampans will bring you to Gieng Island, for a visit to a local village where hundreds of sampans and rowing boats are made daily. (B/L/D)
Day 10: Sa Dec / Cai Be / My Tho – SEPTEMBER 30, 2023
Upon arrival to Sa Dec, visit the home of Mr. Huynh Thuy Le, the inspiration of Marguerite Duras' novel, L'Amant (The Lover), as well as the Chinese Temple which was build in honor of the Huynh Thuy Le Family. There, you will be welcomed by traditional Chinese Lions Dances. On your itinerary is a walk through the town's market, where you experience the sights, sounds, and smells of the colorful fresh produce, meat, live fish and seafood for sale. After returning to the ship for lunch, guests enjoy an afternoon cruise to Cai Be. After, we board our sampans to visit a traditional rice factory, where workers produce rice paper, rice wine, popped rice, and many varieties of traditional candies. This evening, we will gather for a Farewell Reception with the entire crew, before enjoying a Cambodian Farewell Dinner in Le March Dining Room.(B/L/D)
Day 11: My Tho (Disembarkation) / Ho Chi Minh City – OCTOBER 1, 2023
After breakfast, bid farewell to the Mekong Jewel and enjoy a scenic drive to Ho Chi Minh City, where we begin our tour of the city's incredible French Colonial architecture, including the Notre Dame Cathedral and Central Post Office. Enjoy lunch at a local restaurant. Tonight is yours to enjoy at your leisure. (B/L)
Day 12: Ho Chi Minh City – OCTOBER 2, 2023
After breakfast at the hotel this morning, enjoy a tour to the town of Cu Chi, where the local Vietnamese lived underground during the Vietnam war. This incredible complex features underground homes and tunnels, as well as examples of the traps used to maim and kill soldiers. This evening, we bid farewell, with a special farewell dinner. (B/D)
Day 13: Ho Chi Minh City – OCTOBER 3, 2023
Transfer to the airport for your hight home. Hotel check out is at Noon. (B)
---
Package Includes:
Hosts throughout the program
3 nights deluxe hotel accommodations in Siem Reap, including daily breakfast, three lunches and one dinner
7-night cruise including all meals
2 nights deluxe hotel accommodations in Ho Chi Minh City, including daily breakfast, one lunch and one dinner
Cruise includes free-flowing local spirits, house wines (wines with dinner only) and locally-produced beer and soft drinks
Daily shore excursions and touring on both land and cruise